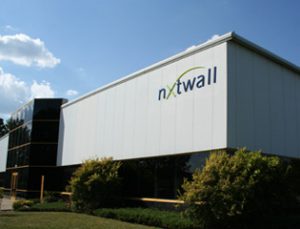 NxtWall Architectural Walls are the leading industry solution for floor-to-ceiling walls. NxtWall offers its dealers, facility managers, architects, interior designers and end-users, an effective solution and creates endless possibilities, whether they are looking for privacy or greater collaboration. NxtWall Architectural Walls are flexible, affordable and completely custom.
NxtWall Architectural Walls represent a new generation of truly demountable walls. This new product concept, while simple in its design and construction, requires a different aptitude than currently exists in the typical distribution channels used in the industry. While it is not complex or difficult, certain skill sets such as attention to detail and proficiency in the use of certain tools, must be demonstrated to ensure a professional installation will occur. This attention of detail will allow the customer to benefit from NxtWall's superior design for the life of the product. NxtWall is committed to providing excellent customer service. We want to ensure every step of the way–from concept design to on-site installation–is a seamless and stress-free experience. That is why we host a monthly Installation Technician's Certification Program.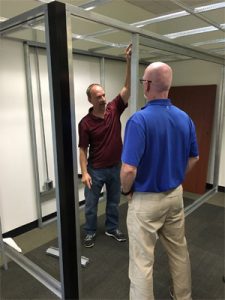 The session is a one-day class, FREE to attend and will be held at NxtWall's Corporate Headquarters, in Kalamazoo, Michigan. NxtWall reserves the right to limit class size on a first-come, first serve basis. Attendees are responsible for arranging their own travel and hotel accommodations. Instruction will be given on how to field measure for glass and each installer will receive a copy of our NxtWall installation instructional manual to take home. After completing the program, your company will be referred to any local or regional dealers/projects as a preferred certified installation partner.
"Certified NxtWall Installation Technician"
will demonstrate through a classroom setting and or a field installation audit, the following skill sets: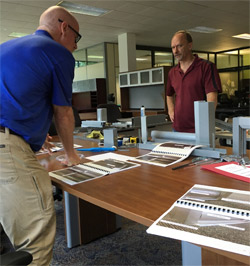 Excellent project planning.
Team and work-flow management.
Product and material organization and staging.
Product and material knowledge.
Ability to read "bill of materials" and NxtWall field drawings.
Competency and proficiency in use of tools.
Outstanding customer communication skills.
Strong business and documentation skills.
Commitment to quality.
"Safety First" attitude.

Participation in the classroom training sessions is not required, but it is strongly encouraged, while the field installation audit is required to gain or renew the NxtWall Installation Training Certification. Nothing provides a greater learning environment than "hands-on" training and one-to-one instruction.
About the Certification
The use of certified installation technicians or certified companies for all NxtWall installations is very important to ensure quality, product and aesthetic performance, while maintaining product warranty. We are committed to building an extensive list of installation professionals and companies around the country.
The NxtWall certification can belong to both an installer and or an installation company. The installer is first and foremost certified. It is the individual who has worked to demonstrate the proficiency has earned the certification through an auditing or monitoring process. If an individual is in a leadership or ownership capacity with a dealership or installation firm, then that company is said to be a "Certified Installation Company".
Application for Certification
To become certified, an application must be completed by the installer and submitted to NxtWall for review. The installer must make accurate representation on length of experiences associated with office furniture experiences and or construction related experience. These references are subject to review by NxtWall.
An applicant must have a minimum of 3 years of office and architectural interiors installations related experience or construction related experience. The installation of NxtWall requires an applicant have a comfort level in working with a broader group of construction related tools and power equipment. If the applicants experience is exclusive to office furniture the installer must provide added background on both "experience" and or knowledge in working with the tools required for a NxtWall installation.
Updates and Product Information
NxtWall views their product installers as craftsman and as such, consistent practice of a "craft" ensures that these skills are not lost. To remain current, NxtWall has set up a process of sharing updates and new product information via email correspondences.
Interested in Attending a NxtWall Training Course?
If you or your company are interested in becoming a Certified NxtWall Installation Technician:
Download an Installation Certification Application Form
Receive Email Notifications of Future NxtWall Installation Training Sessions