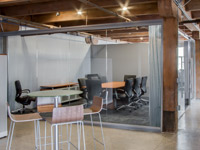 First National Bank of Michigan – Holland, MI
The new Holland branch of FNB of Michigan moved into a temporary location while their permanent location was under construction. They wanted a wall system that was not only architecturally appealing, but also demountable and reconfigurable— which would make the transition into their new location much easier, and less time consuming.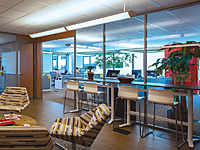 Banner Bank Building – Boise, ID
The Banner Bank Building is Idaho's first multi-tenant office building to be certified with a LEED PLATINUM Certification. The Banner Bank Building occupies eleven stories at one of the city's premier downtown addresses. This business center hosts 180,000 square feet of office and retail space.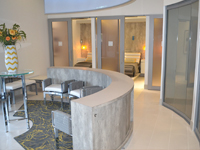 Marshall Lifestyle Medicine – Lexington, KY
Marshall Lifestyle Medicine Specializes in lifestyle medicine with a commitment to mind, body, and wellness. An interior space that was welcoming, attractive and calming where patients, family and friends would feel safe, nutured and even pampered was desired.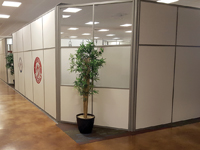 American International School of Utah – Murray, UT
The American International School of Utah (AISU) serves grades K-12. The middle and high schools maintain a rigorous academic
environment tailored to the individual with project-based learning aimed at preparing students for college by cultivating the next
generation of problem solvers with an emphasis on innovation.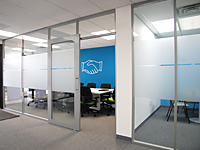 Ashfield Meetings & Events – Ivyland, PA
Informal meeting spaces are what this company thrives on for collaboration. Brightly painted rooms are toward the front of
the space, adjacent to a large, formal conference room. NxtWall demountable glass walls allow these rooms to feel larger while
also providing acoustical privacy.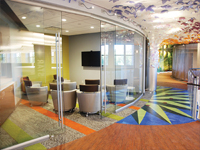 Holy Redeemer – Huntingdon Valley, PA
Convent to house the Sisters of the Holy Redeemer, this late 1930's building has undergone a tremendous modern interior
transformation. The 3-story building was repurposed into a learning and conference center for the Holy Redeemer Health System
employees. The goal was to create an environment that would fit their corporate mission.