NxtWall Demountable Walls are proud to be Made in America!
Labor Day is an important reminder of why the terms "Made in USA" and "Made in America" are so important. When consumers buy American made products this allows companies to stay on American soil and provide Americans with jobs. It also ensures the American consumer will receive a quality product made according to US standards. NxtWall is proud to be Made in America and offer our customers exceptional overall value, attention to detail and one-of-a-kind service. These high standards continue to make NxtWall a leader in the architectural demountable wall industry.
NxtWall's corporate headquarters is located in Kalamazoo, Michigan. In fact, 90% of our vendors are located within one hour of Kalamazoo. By buying locally we maintain a small carbon footprint which is not only better for the environment, but allows NxtWall to maintain the fastest shipping time in the industry. It also allows NxtWall to be more flexible and responsive to our customer's needs. Our vendors are just as committed to maintaining a strong America by providing superior products made with excellent craftsmanship.
NxtWall Architectural Wall Systems are custom built and exceptionally functional and flexible. Our Flex and View Series are perfect for both new construction, and renovation projects in any commercial, industrial, governmental, or institutional building. NxtWall's field-fit approach reduces costs, saves time, and offers the ability to reconfigure any workspace as your needs expand or change. NxtWall systems are LEED compatible and can be up to 100% recycled. Our solid wall panel and glass systems integrate with any design and can be paired with whiteboards, fabric panels, smart glass technology, and many other office features that encourage collaboration and improve work performance. NxtWall is a market leader in the demountable wall industry and we are proud to be made in America!

Happy Labor Day!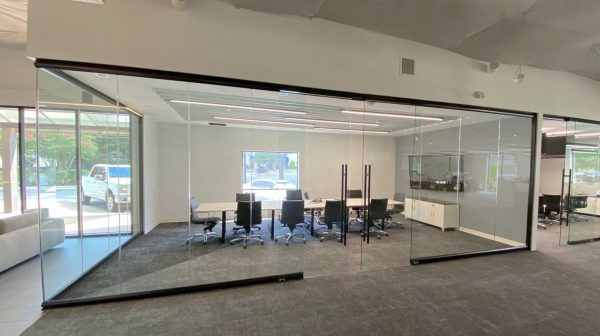 View Series Full Height Glass Conference Room with Black Wall Frame Finish
Product: View Series
Market: Corporate
Wall Frame Finish: Black
Description: View Series Floor-to-ceiling Glass Conference Room. Black Aluminum Frame finish with Matte Black Ladder pull door hardware. 1/2″ single pane clear tempered glass and Frameless Glass Double Sliding Door entry.
See more View Series Images