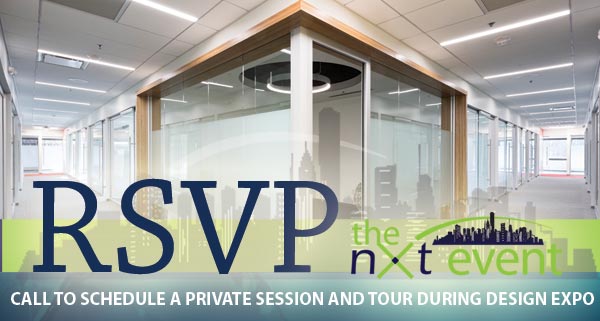 NxtWall is proud to announce their newly remodeled Chicago demountable wall showroom just in time for the 2016 Design Expo. Conveniently located adjacent to the Merchandise Mart on the corner of Kinzie and Franklin, the newly designed NxtWall showroom is a must-see by attendees during the annual show, June 10th – 15th, 2016.
Over the last three years NxtWall has refaced and repurposed the installations of their Chicago demountable wall showroom. Practicing what they preach, wall frames have been adjusted slightly and new materials inserted to demonstrate the ease and flexibility of updates that is a core benefit of demountable wall products. From water fountains to bamboo, to artificial turf, each year a new and innovative material has been incorporated into the Chicago showroom.
According to Jerry Sweet, President of NxtWall, "Today, demountable wall products are being specified on projects with increasing frequency. Designers and architects are specifying demountable walls in ways we never even imagined. NxtWall Flex and View lines bring environmental stewardship, and cost plus time savings all the while delivering an attractive high-end look without compromising budget."
For 2016, an entirely new layout is introduced showcasing both NxtWall View and NxtWall Flex product lines. The wall frames have been reused once again with new panels and materials in a new design. From conference rooms, private offices, and public spaces NxtWalls' showroom demonstrates some of the many ways today's demountable wall solutions compliment commercial interiors practically and aesthetically.
Nxtwall experts will be welcoming industry experts for private sessions during the 2016 Design Show, Friday through Wednesday from 8am – Noon.
Attendees interested in scheduling a private session may call or email Jerry Sweet at 269-488-2752 jsweet@nxtwall.com. the showroom will also be open to the public during the 2016 Design Expo, Friday through Wednesday from 1pm – 6pm.
Design Show attendees, are also invited to reserve attendance to the annual NxtEvent, Tuesday, June 14, 2016 beginning at 4pm. Attendees relax over cocktails and appetizers with industry professionals after a hectic day at the Mart.
*******************************
NxtWall, a privately owned company, has been a recognized leader in the architectural interiors industry for their sound environmental practices and solutions based, field fit approach since 2007. Located in Portage, Michigan and Chicago, Illinois, NxtWall is a leading manufacturer of affordable, attractive, demountable wall solutions suited for every office, university and hospitality interior.
NxtWall offers two distinct lines of movable walls. NxtWalls' View glass wall system offers affordable and contemporary floor to ceiling glass. Nxtwalls' Flex wall system offers customers even more design freedom. Some examples include solid fabric panels, glass panels and metal panels, or upholstery panels combined with clerestory windows. Virtually any panel material can be inserted in a variety of frame finishes, and combined with an assortment of door styles. These options make Flex one of the most versatile and affordable architectural wall system on the market. Both View and Flex are non-unitized systems making them easily reconfigurable for office spaces and interior layouts that change over time.
NxtWall markets to property management companies, universities, municipalities, architects, designers, builders and a select network of dealers throughout North America, South America and Canada.
Contact Information:
Media Contact for NxtWall
Jerry Sweet
269-4882752
jsweet@nxtwall.com