The search for modular interior office walls to replace the conventionally constructed interior walls most offices have has been active for quite some time. Office interiors have been moving towards drywall replacements for office walls, partitions, and cubicles. Moveable walls replace the conventional commercial interior construction of walls, or simply- gypsum walls, because they provide the real flexibility to construct at both the time of install and from use to reuse. A moveable wall will not only deliver a sustainable story based on the product's materiality, but it will also offer a solution that suggests a strong reuse strategy that will reduce landfill waste. To be viable a movable modular wall one needs to first provide an affordable first cost with a very convincing long-term cost benefit, no matter who does the math.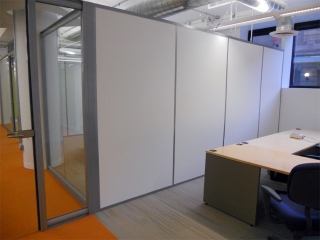 The challenges of delivering an interior demountable / removable and reusable floor-to-ceiling office wall solution adhering to the existing approach of design, build, tear down, disposal and rebuild of interior walls are many.   The biggest challenge is delivering an interior movable wall that is affordable.   The idea of investing in a demountable wall solution without the benefit of having a movable wall that can meet the varying space, height, and building constraints has limited the logical growth potential for this industry.
Today, with the use of space compression, open-plan workstations replacing panels and confidentiality requirements, the next or "new" wall that both looks and acoustically performs like a built wall has not been established within the market.  The demand persists for a fundamentally different approach- one that replaces the confusing strategy of utilizing gypsum or constructed sidewalls and glass fronts or with "furniture system type" or "unitized" walls that have not been able to support the real change facilities managers must confront in today's work spaces.
NxtWall designs easily movable office interior walls for the facilities management community.   NxtWall's Flex Office Wall and View glass Office Wall series interior movable and architectural demountable wall is truly like none other.  This "new generation" of field-adjustable and or adaptable walls, provides a real game changing opportunity and guarantees to make a difference.  No product delivers on flexibility, cost, acoustical needs, aesthetic, strength and durability, and sustainability like the NxtWall Flex and View office wall series.  Because all of our office wall systems are completely integrated demountable wall systems enables NxtWall's product offering to deliver the broadest and most scalable interior wall solution on the market today. The integration of our Flex and View series demountable office walls enables NxtWall's product offering to deliver the broadest and most scalable interior wall solution on the market today. The Flex and View moveable office wall series solution offer the following features:
Sound Transmission Category in the mid 40 STC rating depending on the wall option you choose
Robust standard construction wall thickness, 3" 1/16, with ability to utilize standard construction hardware, accessories, and materials readily available in the market
Ability to integrate between NxtWall's Flex and View Series as well as competitive glass front solutions
High quality and high definition wrapped wall board material with many finishes
Demountable construction consisting of tracks and studs that snap fit together
Whiteboard accessory options
Truly reusable while cost effectively recyclable (no breakdown cost of "unitized" panels or parts)
Clerestory for "daylighting" and or "daylight harvesting" options
Minimized kit of parts for ease of inventory and facilities management
Financial benefits including accelerated depreciation benefits, personal property tax savings and alternative financing methods
The Flex and View office wall series product lines are unique, and like no other removable floor-to-ceiling wall solution on the market. This product makes NxtWall's offering, not only the most scalable demountable wall solution on the market today, but also one of the most affordable. The NxtWall's Flex and View movable wall series price position (from a first cost standpoint), really allows for facility managers, developers, and real estate professionals, to consider an environmentally responsible replacement to drywall for a price that is similar to a drywall budget. The Flex and View series wall promises to deliver a different kind of interior movable wall…one with an affordable price and flexible "field adaptable" product design. The next wall to replace conventional construction with a flexible movable interior wall solution is the NxtWall Flex and View series removable walls.