NxtWall Architectural Walls Help Businesses Succeed by Providing a Flexible and Agile Wall Solution
Twenty-first century workplace environments need to be flexible and agile – ready to change on demand to ensure worker satisfaction, safety, and peace of mind.
Demountable Wall Systems are designed specifically to meet a business's unique and individual needs. The beauty of using a demountable wall system is that it can also be redesigned and reconfigured quickly as circumstances dictate. Architectural walls are flexible and agile as they can be adapted to meet employees' requests for more privacy, better safety measures and overall wellbeing. Large offices can be divided into two. Private offices with doors can be added to provide individuals with their own quiet spaces. Collaboration space can be added to enhance a better flow of ideas and creativity. NxtWall demountable wall surfaces can be cleaned with disinfectant wipes to provide a sanitary environment where employees can feel safe and flourish.
NxtWall designers are ready to work with you to create a new office design or help you reconfigure your existing office arrangement. Below is a time-lapse video of our installation team disassembling one office and reconfiguring the space into two distinct offices.

"Success today requires the agility and drive to constantly rethink, reinvigorate, react, and reinvent."
–Bill Gates
Watch the video and see how easy it is to transform one office into two offices with NxtWall.
NxtWall's Flex and View Series are perfect for both new construction, and renovation projects in any commercial, industrial, governmental, or institutional building. NxtWall's field-fit approach reduces costs, saves time, and offers the ability to be demounted and taken with you when you move to a new building or floor. NxtWall wall systems are LEED compatible and can be up to 100% recycled. Our solid wall panel and glass systems integrate with any design and can be paired with whiteboards, fabric panels, smart glass technology, and many other office features that encourage collaboration and improve work performance.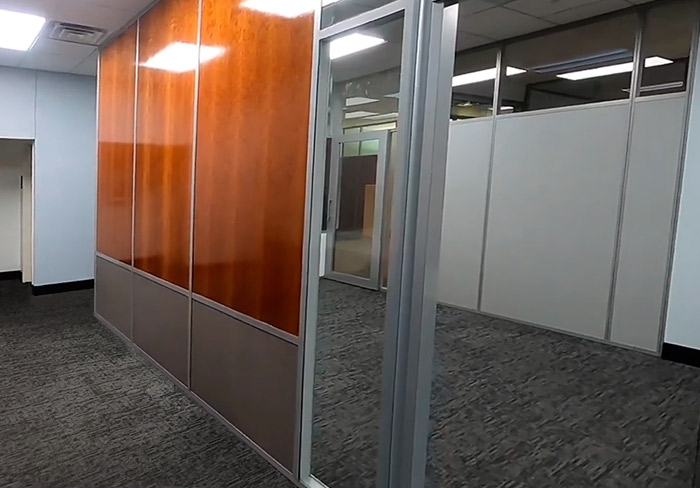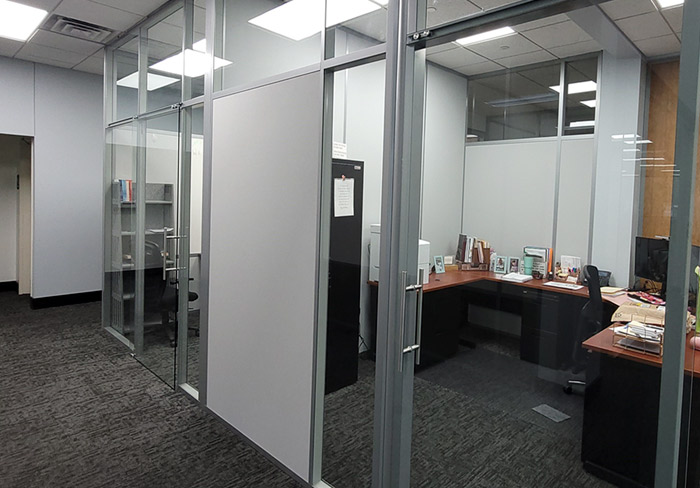 One large office split into two private offices with NxtWall Flex Series Demountable Walls.
NxtWall Product Information:
Flex Series offers clean lines and user-focused designs, as well as endless customization. You can change the height, materials, and finishes as needed; combine solid or glass panels, add a tackable fabric or white board. Get creative with nearly any material or design imaginable. Reconfigure when needed. The possibilities are endless.
View Series provides elegant floor-to-ceiling glass walls capable of adjusting to the harshest existing site conditions. The sophisticated center pane glass walls and the glass doors of NxtWall's View Series invite natural light into interior spaces. Highly adaptable to changing needs, the View Series' refined minimalism and unmatched visual impact makes NxtWall an aesthetically superior choice.
NxtWall offers FREE design services with completion of our RFQ (Request for Quote) Forms and initial plans. We provide plan drawings, elevation drawings, and 3D renderings of your project.
Please note: Drawings are not provided with Budgetary Estimates.
NxtWall has one of the fastest lead times in the wall industry today with a 3–5-week standard lead time. If you know your project's dimensions, ceiling height, and building needs, and fill out one of our quote forms, we will have a quote for you within 3 business days. Avoid the 6–14 week lead times you'll get with the other wall system companies.
Product: View Series
Market: Corporate/Business
Wall Frame Finish: Black Aluminum
Description: View Series floor-to-ceiling glass office partitions. Black aluminum frame finish with 48″ matte black ladder pull and self closing/self centering hydraulic door hinges. 3/8″ single pane clear tempered glass and frameless glass swing door.
See more View Series Images