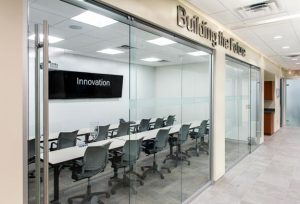 The new sustainability motto for commercial construction should be reduce, reuse, recycle, retrofit. Building green doesn't always mean starting from scratch with the latest and greatest green products. Retrofitting buildings offer many opportunities, especially with office spaces, where companies can save money, energy and natural resources. Retrofitting buildings can prove to be a higher environmental achievement than even new construction designed with the latest and greatest green products. Implementing high efficiency HVAC units, low VOC paints and incorporating daylight harvesting are just a few of the accepted green building practices that can be included in when retrofitting buildings for offices spaces and other corporate or manufacturing use. Before jumping into a new building for your office spaces, why not take a more green approach with your business expansion and explore retrofitting?
NxtWall has enjoyed working with Turner Construction retrofitting buildings in Detroit. above photo demonstrates how Detroit's Ford Field was revitalized to serve a mixed use of commercial space from fieldhouse to office space, Ford Field was transformed with demountable, reusable wall systems incorporating daylight harvesting and flexible reuse capability that was missing in the original building design.
Tips for Retrofitting Buildings for Office Spaces
1. Existing Commercial Buildings – Vacant commercial real estate properties combined with low interest rates are valuable commodities for growing companies seeking relocation and expansion space. Save on new construction costs by retrofitting buildings available for lease or for sale. Great deals can be had if you are open to innovative solutions. Many vacant commercial properties previously serving retail, manufacturing or other specialties are valuable real estate that can be retrofitted to office spaces and shared use facilities. Consider the bones that are already in place with an existing commercial building such as parking, zoning, utilities – not to mention all the time saved from zoning permits and additional inspections.
2. Consider building structure when retrofitting buildings – Choose a building that suits your needs and style that requires less reconstruction. Design your office space to work with the building ceiling height, HVAC, entrances, exits, restrooms, etc. The less re-construction the lower your environmental impact. Wires and cabling can be housed within demountable wall systems and raised flooring solutions pretty easily but you'll still save time, money and resources when retro-fitting buildings and office spaces if your design works well with the existing construction.
3. Consult with Your Workers – When retrofitting buildings for manufacturing or office spaces remember the workers who are housed within those walls. When redesigning office space remember this is a chance to improve productivity, workplace collaboration and employee morale. If you are retrofitting a warehouse space or factory floor employees can provide great insight  for process optimization and shop floor functionality. What features do the employees who will be using the equipment or work stations see as necessary changes or updates to improve the workplace? What is working, what can be reused, what needs to be added, what will help them to do their jobs best? Getting valuable input from employees at this stage can result in cost, time and resource reduction.
4. Retrofitting Buildings and Office Space with Existing Elements – Interior movable wall systems can be reconfigured in multiple ways. Additional partitions and frames can be purchased and installed to expand individual work stations. Demountable glass walls are a popular office design trend that fit seamlessly in office space retrofits. Many demountable glass panel wall systems, including NxtWall's View system can be retrofitted with existing solid panel wall systems. NxtWall Flex moveable wall systems offer the benefit of retrofitting with many other wall system brands offering reduced waste and expense in an office space retrofit.  Updating textures and colors to match current design trends can be achieved by using low VOC paint on interior gypsum or block walls. New upholstery panels, recycled materials such as reclaimed wood, metals, etc. can replace outdated fabrics and upholstery in work spaces and furniture. Reduce costs and increase sustainable practices when you consider lighting placement too. For increased natural lighting consider glass walls and higher efficiency lighting solutions such as LED lighting. If the lighting layout needs to change consider reusing the light fixtures when possible. From doors, to office walls, to light fixtures and plumbing, retrofitting buildings using existing elements can be give a fresh look while reducing waste and trips to the landfill.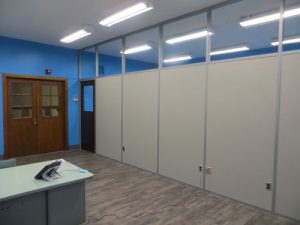 Photo examples of an interior retrofit on the campus at Michigan State University respects the integrity of the historic buildings and components found on many higher education campuses. Integrating new demountable wall systems with solid old school house doors offers flexible design solutions that can be reconfigured for future needs will giving a respectful nod to the past with the retro school house doors.
The new green commercial construction motto: Reduce, Reuse, Recycle, RETROFIT!