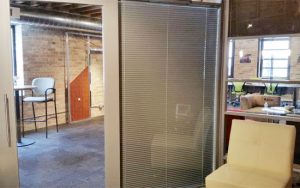 So you love the idea of a floor to ceiling glass wall office with an unobstructed view of the river outside your corporate headquarters? Well, you may until the blaring sun comes around to your side of the building late in the afternoon and you can no longer read your computer screen. The transparency, openness, and sense of team building that attracts many of us to office walls made of glass comes with a price to other workers and in some office environments. However, with some pre-planning, any concerns with glass walls, glass doors or partitions can easily be rectified and benefits to workers and the environment can be the result.
Giving the Green Light for Daylight Harvesting
Green building and commercial space trends are embracing daylight harvesting by incorporating walls of exterior windows and demountable glass interior walls. Inviting natural light to permeate interior spaces gives the illusion of a larger space and reduces the need for artificial lighting in commercial and residential buildings. Less energy is used and indoor environmental quality is improved with the use of interior glass walls that assist with distribution of natural light throughout the interior spaces of a building. Psychology Today cites that the productivity and well-being of workers in buildings utilizing green practices of daylight harvesting is higher than traditional spaces too.
Benefits of Daylight Harvesting:
reduces need for artificial lighting sources
reduces energy use
helps spaces feel larger
invites team collaboration
increases productivity
increases well-being of occupants
Made in the Shade
For facility managers, interior designers and architects who appreciate the benefits of daylight harvesting and LEED points but are concerned of sunglare flooding through glass wall partitions there are a number of attractive options available. The best solution for projects in process are enclosed blinds for your glass office walls. Prior to installing demountable glass walls in your commercial space, you can specify NxtWall's enclosed blinds for all of your moveable glass walls and sliding glass doors. With a flick of a switch you can control how much light comes in and still enjoy seeing the ducks land on the river while continuing to get your work done. The enclosed blinds are hidden from view with no dangerous strings tripping up unsuspecting walkers by.  Clean, smooth release of the glass wall blinds offer options to close the slats for complete privacy or angle them for optimum light. When the enclosed shades are closed they tuck away out of sight and do not hinder your view. Heating and cooling is reduced and goals toward regenerative buildings with net-positive impact on the environment may be closer to reach with the use of enclosed shades.
Reading Between the (Enclosed) Blinds
Enclosed shades inside office glass walls not only close out light they are also great for reducing distractions. The trend for collaborative offices and open, light filled glass wall offices is a dream space for one employee and a dreaded fishbowl for the more introverted of the group. Enclosed blinds in a demountable glass office wall allows for privacy when it's important to focus and step away from the collaborative space. The ability to eliminate distractions with enclosed shades installed in each glass wall or sliding glass door helps introverts feel more comfortable plus offers privacy for delicate conversations with clients, guests, or employees when necessary.
Benefits of enclosed blinds in glass walls
light control
increased privacy
reduces distraction
no dangerous cords
no muss or fuss cleaning enclosed shade slats
ease in operation
remote control available
14 enclosed blind stock colors to choose from
Blinded by the Light
Enclosed blinds can be added to NxtWall's Flex Series throughout the lifecycle of the product.Even though enclosed blinds can not be installed in NxtWall's View Series a product we recommend to achieve similar results is Electric Privacy Glass. Electric Privacy Glass is a great option that also helps control the amount of light and heat from glass walls, doors and windows in office spaces or receptions areas. Smart glass, smart film and and lamination smart film are available.
Another attractive and affordable option available to achieve privacy and shading from sunlight in glass wall offices is to purchase pre-made floor to ceiling curtains or choose a fabric and order custom made drapes to match your office furnishings. Other options for privacy and management of sunlight in glass office walls and doors are pull down shades that resemble window tinting.
Do you know of any others I have missed? Please share in comments below.