Switchable Glass Walls are Now Available
Go from Clear to Opaque in an Instant!
At the flip of a switch, go from transparent to translucent glass wall panels instantly. What may have seemed like an impossible task a few years ago is now a reality thanks to advancements in Glass Technology. This Smart Glass or Switchable Glass as it is called in the industry, works when the light transmission properties of glass are altered when an electrical current is applied. Now any Smart Glass panel can provide both privacy and daylight depending on the situation. The controls are at your fingertips. The UL approved technology provides unprecedented command over the amount of light, privacy, glare and heat that enters a space and is ideal for Commercial Interior, Government Services and Higher Education applications. Switchable glass and film can also be thoroughly cleaned, unlike curtains and blinds, therefore, it is especially useful in the healthcare and medical services arena. Switchable glass can even block harmful UV and Infrared (IR) rays protecting both furniture and people from damage.
How Does Switchable Glass Work?
Switchable glass works by allowing an electrical current to pass through the PDLC (Polymer Dispersed Liquid Crystal) interlayer sandwiched between two sheets of glass which aligns the microscopic crystals along parallel axes, this makes the glass clear or see through. But when no voltage is applied, the liquid crystals are randomly arranged in the droplets, resulting in the scattering of light as it passes through the glass. This results in the translucent, "clouded" appearance.
There are 3 main types of switchable glass applications:
Finished Smart Glass – is made up of PDLC (Polymer Dispersed Liquid Crystal) film situated between two sheets of glass. This high-quality product is ideal for new builds and glass that can be replaced
Laminated Smart Film – is a switchable interlayer of PDLC film situated between two conductive interlayers that can be bonded between two pieces of smooth glass. This product is an excellent choice for custom applications
Adhesive Smart Film – is a dry self-adhesive film that can be applied to any existing or new glass surface. Multiple piece can be joined together to create large switchable glazed panels and partitions. When glass cannot be removed or replaced, this product delivers the solution you need.
Infinity Residential – Irvine, CA (A NxtWall Case Study)
Infinity Residential, a residential property management company located in Orange County – Irvine, California, wanted to update their office and make better use of the existing space. They decided to "gut" the entire two-story structure. In the newly designed office lay-out, the designers wanted to take advantage of as much natural light as possible yet still allow for privacy in the offices facing the windows. Ultimately, the employees needed an area that would allow them to do their jobs in an aesthetically pleasing environment that could adapt as needs changed.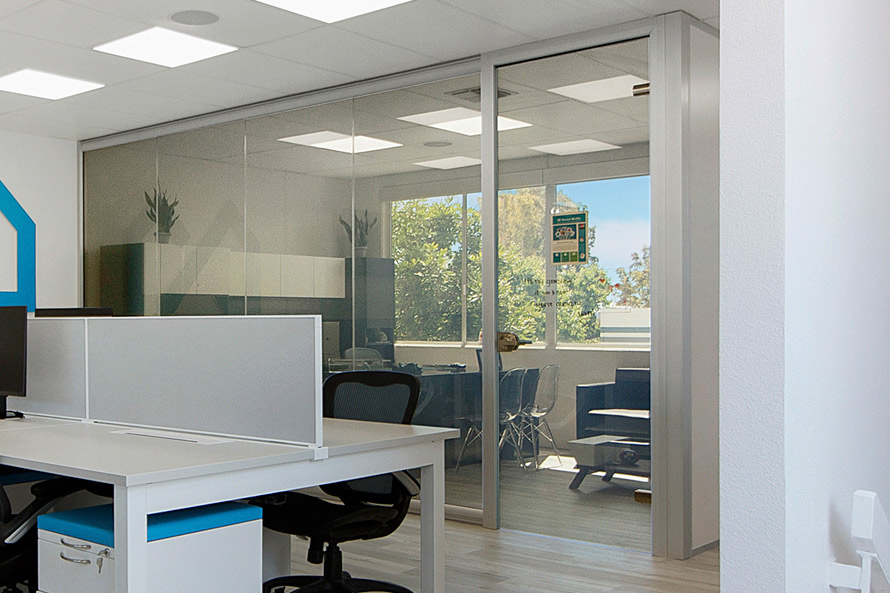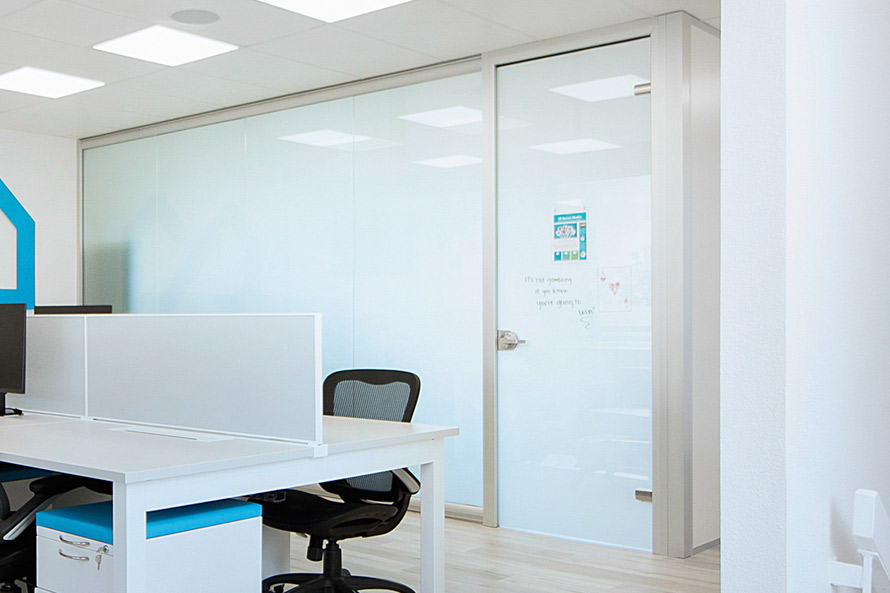 Move the slider to left or right and see the switchable glass turn from clear to opaque.
"Thank you, NxtWall!! Your amazing demountable walls and innovative use of smart glass technology has helped transform our new office space. We have gone from lousy to luxury and we couldn't be more pleased. We are so happy in our new space!"
-Billy Rosenberg, President of Infinity Residential
The NxtWall Solution
Infinity Residential chose to use switchable glass in their outer offices facing the windows. Bright sunlight could flow through to the inner office area to allow for daylight harvesting but when needed, at the flick of a switch, the glass could go from clear to opaque in milliseconds to provide the privacy needed. NxtWall's stylish demountable architectural wall products offer unlimited opportunities to create the perfect office environment. NxtWall architectural walls were the perfect solution because both our Flex and View wall systems work well with switchable glass to create customized workspace design solutions that let the light in and ensure employees have the privacy and comfort they need it to get the job done.
Case Study Media Gallery: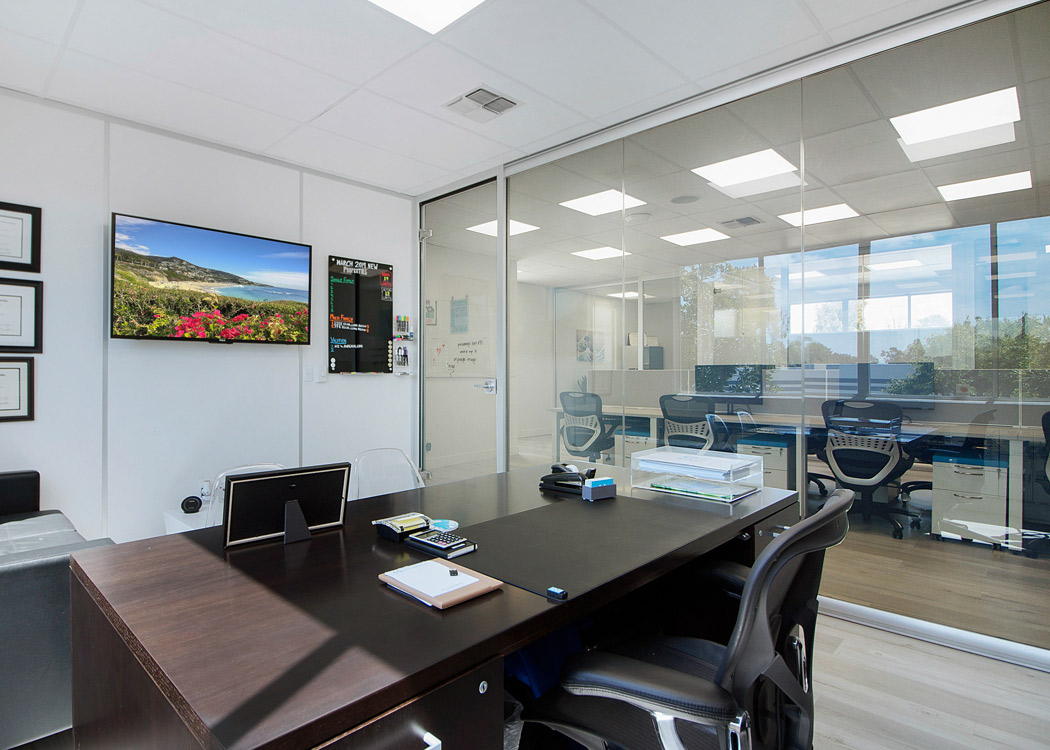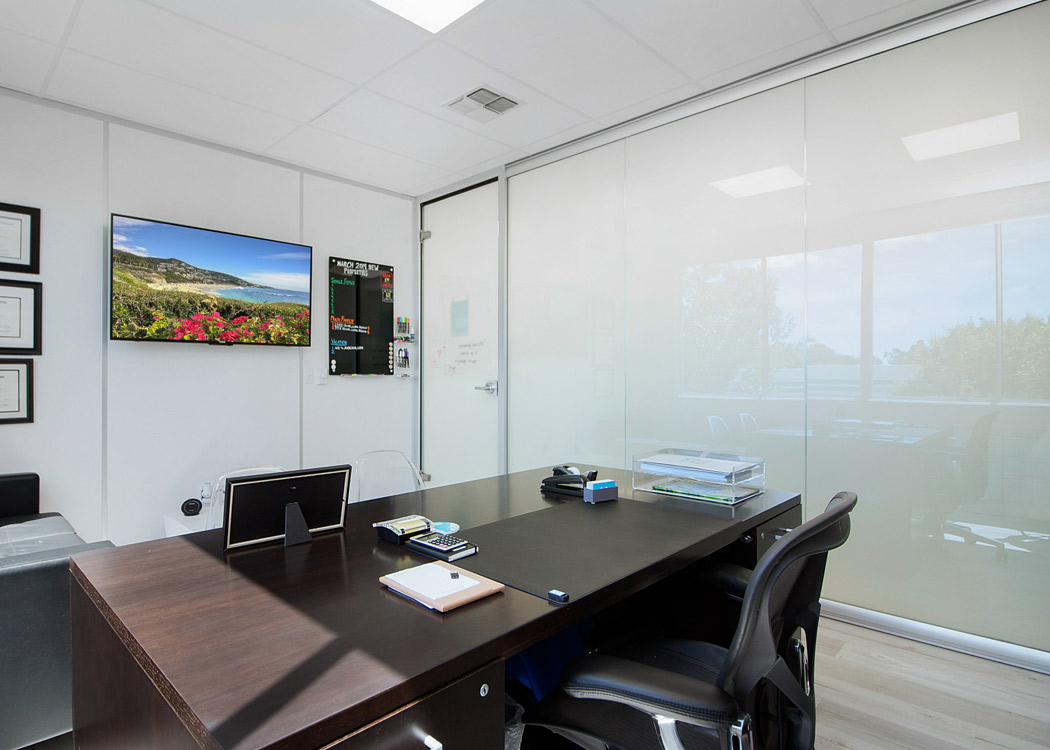 Move the slider left or right to see the switchable glass walls turn from clear to opaque.
Product: View Series with Switchable Smart Glass
Wall Frame Finish: Clear Anodized
Market: Property Management
Description: Walls are floor-to-ceiling glass office fronts, 1/4″ clear tempered glass (single pane) with Flex Series sidewalls finished with whiteboard and laminate wall finishes. Doors are clear-tempered frameless glass swing with standard leverset. Doors and Glass Walls are integrated with switchable glass.