NxtWall Architectural Walls invites you to come visit us at NeoCon 2018…
Visit us in BOOTH #7-1051, June 11-13, in The Merchandise Mart, Chicago, Illinois.
NxtWall is excited to announce we will be exhibiting at NeoCon 2018. NeoCon is the largest commercial interiors show in North America. This is the 50th year The Merchandise Mart has welcomed over 50,000 design professionals to Chicago. NeoCon currently remains the premier platform for connecting, learning, and doing business in the commercial furniture industry. The three-day event highlights more than 700 leading companies. With over 1 million square feet of exhibition space, the show launches thousands of new products and covers a spectrum of vertical markets including Workplace, Healthcare, Hospitality, Retail, Education, Public Spaces, and Government.
NxtWall's Goals for NeoCon 2018
We will be showcasing existing NxtWall architectural products such as our Flex Series and View Series wall systems, and introduce new designs and finishes. Our goal is to help you bring your unique design ideas to life and ignite your creative juices.
We look forward to meeting existing and new customers face-to-face. There is nothing better than finally putting a name to a face or seeing an old friend again. At NxtWall, we pride ourselves on our customer service. We are committed to streamlining the process, from quoting-to-project completion, giving you the best possible product with a fast turnaround time at an affordable price.
At NeoCon, we plan on celebrating NxtWall's successes. But we are never comfortable resting on our past experiences. We are constantly evolving to meet the needs of our customers. Innovation is at the fiber of our being as we embrace the future and look forward to new opportunities to serve our customers.
We look forward to demonstrating how NxtWall's field-fit wall system truly is the right choice in the demountable wall industry.
Be a Part of the Excitement
NeoCon, since its launch in 1969, has served as the annual gathering place for the commercial design world's manufactures, dealers, architects, designers, end-users, and media. Be sure to visit us in Booth #7-1051 for NeoCon 2018. Be a part of the experience….
Register on-line today at: The official NeoCon 2018 website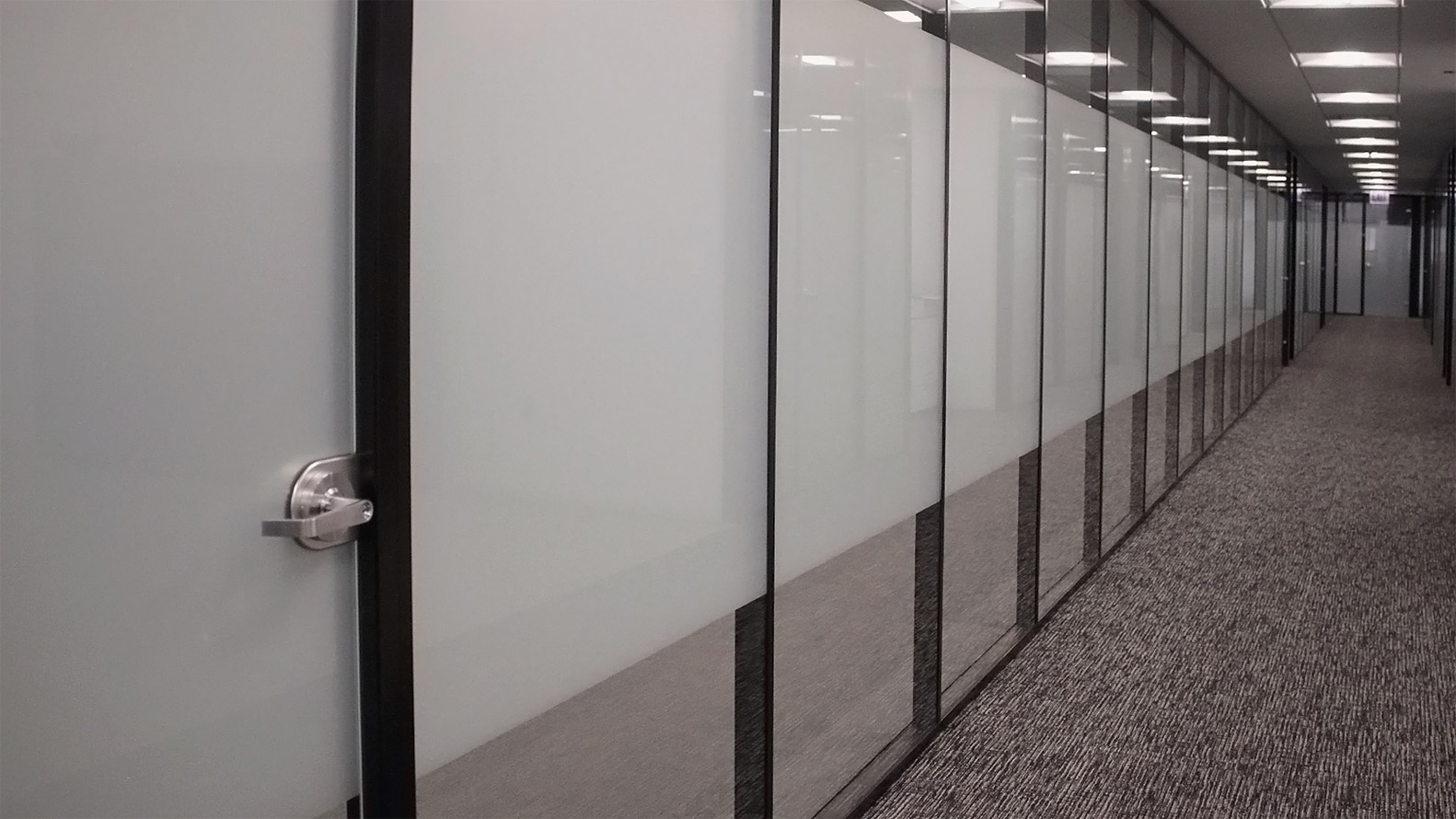 Product: Flex Series
Wall Frame Finish: Black
Market: Tenant/Landlord
Door Type: 3/8″ Clear tempered frameless glass swing doors
Description: Clear tempered glass- finished with privacy film stripe. Black aluminum frame finish with lever lock housing kit bright anodized door hardware.
See more Flex Series Images