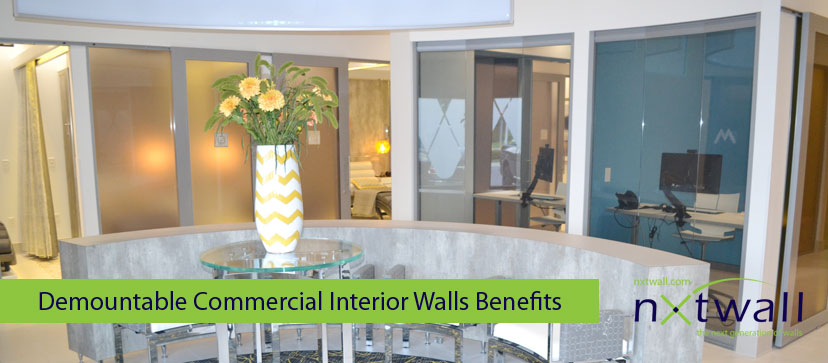 Recent installation of NxtWall demountable commercial interior walls at Marshall Lifestyle Medicine resulted in private, attractive patient and consultation rooms fitting to the company's branding message: Your Life. By Design.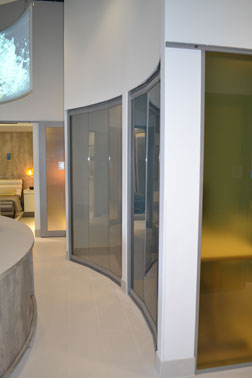 NxtWall dealer, KPC Architectural Products a certified Women's Business Enterprise (WBENC) in Lexington Kentucky worked with interior designer, Julie Rainey of R2 Studios on the new Marshall Lifestyle Medicine healthcare facility. Marshall Lifestyle Medicine specializes in lifestyle medicine with a commitment to mind, body, wellness. An interior space that was welcoming, attractive and calming where patients, family and friends would feel safe, nurtured and even pampered was desired.
When interior designer Julie Rainey met with Angie Smith, President of KPC Architectural Products, Inc. to select unique furnishings for the space Julie's interior design indicated walls would be built out in the space. Considering the contemporary and artistic style that was to be achieved in the space, Angie suggested NxtWall demountable commercial interior walls. KPC Architectural Products office has NxtWall floor to ceiling glass wall with sliding door and NxtWall Flex demountable walls the conference room. The contemporary and attractive appeal of the NxtWall product in use in their own headquarters helped their customer clearly see the benefits of choosing demountable walls instead of traditional walls for the project.
 Demountable Commercial Interior Walls Benefits
 "The greatest benefit of NxtWall demountable walls is the flexibility. We can work with a number of materials in a number of different ways. We're not limited by drywall and paint, innovative designs can be developed and color can be added in a variety of ways. Because the walls are semi-permanent they can be re-configured by moving a minimal amount of fasteners." – Jonathan Smith, VP, KPC Architectural Products, Inc.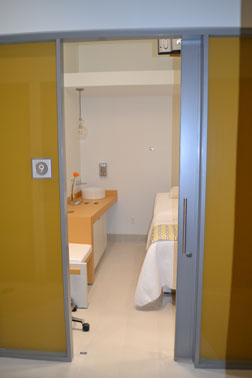 The flexibility of demountable commercial interior walls was proven once again when the client disclosed that lasers were to be used in the medical procedure rooms. Lasers and glass don't mix well. The interior glass walls had already been ordered and were ready for install.  After a bit of brainstorming, modifying the architectural drawing with NxtWall staff, the solution was to create a shadow box effect on the interior of the healthcare procedure rooms.  Drywall was installed on the inside of the room and was painted on both sides. An amber tint had already been applied to the glass to add privacy and to complement the chosen color palette. The addition of the shadow boxes provided the necessary safety while still allowing the specified glass walls to be installed. The final result was an affordable and attractive feature the client is very happy with.
NxtWall Architectural Wall Installation
The organic line of the curved glass wall in this photo helps the waiting area flow seamlessly with the rest of the space. Always efficient with time and costs, KPC Architectural Products planned ahead to keep installation easier and costs down. The curved wall is comprised of individual smooth glass panels. This approach reduced the expense to the client for specialized curved glass plus simplified the installation while still achieving the organic flow of the curved glass effect.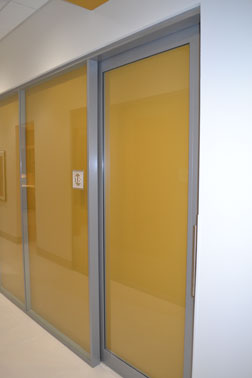 "Use of NxtWall architectural walls offers an easier, cleaner installation over traditional walls that doesn't lock in an area that is going to be in flux. Design a very attractive wall with a variety of elements that is aesthetically pleasing. You can take it down without compromising the space. When you take it down it's like it wasn't there." – Jonathan Smith, VP
KPC Architectural Products, Inc. is a family owned and operated library and commercial interiors company located in Lexington, Kentucky. Started in 1974, KPC has designed and installed furniture and accessories in higher education, secondary and elementary schools, as well as Public, University, and Specialty Library markets.In addition to the school and library markets, KPC also provides furnishings, architectural products, design and installation ideal for other commercial and community applications.
NxtWall is pleased to work with leading dealers like KPC Architectural Products, Inc. and we appreciate being able to show images of glass walls that have been installed. If you are in the Lexington, Kentucky area contact KPC for interior space planning, furniture procurement, interior design services, installation services, collection moving and moving planning. KPC also has specialized equipment for moving steel and wood shelving without having to remove books or other material. Libraries, college and Universities and corporations appreciate the time savings when re-configuring or re-carpeting interiors. Contact owner and president, Angie Smith with questions about KPC.