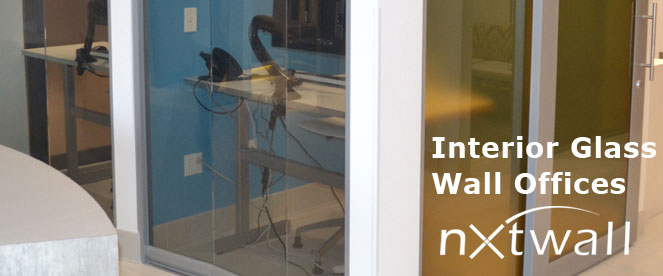 Universities and corporations' attraction to interior glass walls has continued to be a clear choice for sustainable, affordable construction. NxtWall recognizes it is really no surprise to anyone in the commercial and higher education construction market. The simple, sleek and striking aesthetic of interior glass walls is impossible to resist and all indications show a bright future going into 2016.
With Universities, tenant / landlord, and office suites tasked with maximizing open space and continuing to provide private and quiet spaces, demountable glass walls prove to be a sustainable solution. Glass interior walls provide seamless transitions between collaborative work spaces as well as much-desired private work spaces. Replacing solid gypsum walls with glass walls allows for the entry of natural light, space saving layouts, and increased versatility for future use.
Unlimited, custom configurations can be integrated into any building. From floor to ceiling private office spaces to free standing spaces, glass partition walls deliver on functionality, aesthetics and affordability.
Color, Design, Texture
Unlimited style options are available to you with glass. Glass walls can be etched, stenciled, and back painted in any color imaginable. Architectural glass is a favorite of interior designers. Color tinted or reflective glass, patterned glass such as rain glass or reeded textured glass are beautiful and unique additions to glass wall office designs.
Mixed Media
Elegant glass fronts combined with smooth gliding glass doors are a perfect solution for offices with tight entrances. Mix transparent glass walls with natural wood doors or glass office partitions with upholstery panels or pre-existing gypsum walls.
Environmentally conscious and creative offices often incorporate repurposed materials. Ever wonder what you're going to do with all those concert t-shirts?  Father's Day ties? old circuit boards?…  wall styles can range from a sleek and sophisticated modern office aesthetic to a natural, warm, unique or traditional appearance.
Mix-it-up:
Interior glass walls with wood door
Interior glass walls with sliding glass door
Interior glass walls with swing glass door
Interior glass walls with re-purposed materials (remember all those concert t-shirts?)
Sound Masking – Select Your Transparency
The concern expressed with interior glass demountable wall offices is the ability to have private conversations. With glass walls you can pair transparency with varying levels of sound protection and private conversations remain private. Sound masking can be specified for those areas requiring quiet and private conversations. Workers or students can work undisturbed and in peace, even when surrounded by a busy conference room or common area.
Powered By The Sun
It is well known in the green building industry the cheapest energy is the energy that is not consumed. Daylighting benefits provided by glass office walls create healthier work environments. Reduced employee and students illness and absence is attributed to reduced CO2 emissions, increased sunlight, and natural views.
In addition to the well being of the inhabitants, office designs with glass walls support stewardship of the environment. Increased light and UV protection reduces the need for electricity and the use of heating and cooling. Recycled and recyclable, glass reduces construction waste and high use of virgin materials. Lastly, glass walls can contribute to LEED categories related to material content in projects for schools, office, hotels and other commercial spaces.
Solid moveable glass walls offer flexibility and options not normally seen in modular office partitions:
Glass Room Dividers
Glass Panels – floor to ceiling
Glass office fronts
Glass Office Doors
Glass Partitions
Glass Conference Room Doors
With glass interior walls, new construction and renovations have never been so affordable, functional and sustainable. Check in with us today, let us put pen to paper and show how interior glass walls will maximize your space.