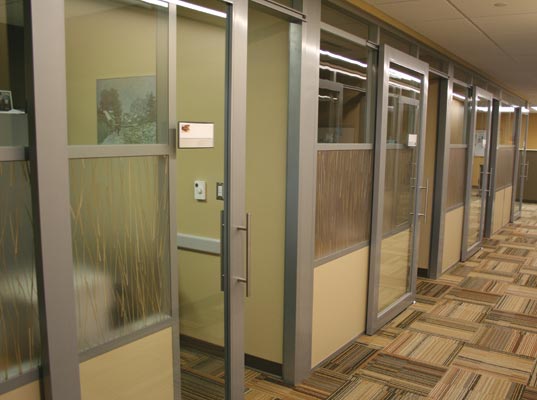 Walking into any school I always feel a reference for the space. In the primary schools, the innocence of fresh minds to mold, emotions that will flow unabashedly between BFF's, favored teachers, and scary principals. Middle school classrooms filled with students caught between childhood learning and high school dreams. High schools spilling over with angst filled teenagers in classrooms of partitions plastered with school mascot pride. University and college campuses exuding unbridled energy, promising futures, and caffeine fueled all-nighters. School walls hold memories, they represent security and strength, bittersweet regrets and some not so earth friendly materials.
Today's hollowed halls have evolved from the cinderblock walls and upholstered moveable partitions many of us were sheltered by during our school years. Today's campuses are filled with moveable glass walls that can transition into new spaces. Daylight harvesting sheds natural light through clerestory window options and full panel moveable glass walls. Contemporary student unions, open space libraries, light filled cafeterias, and sound proof study halls are designed with sustainable materials. Reuse and recycling is at the forefront of campus master plans. Walls in classrooms are decked out with whiteboards offering function to the space where collaboration between students and the teacher is realized. Professors denote complex theory and little Johnny spells 'sustainable' from his third grade spelling list. Schools across the country are designing customized classrooms and updating technology to help guide student learning and they're building them green.
Why Sustainability On Campus Matters
In 2013 The Center for Green Schools and United States Green Building Council (USGBC) formed a partnership with students, faculty and administrators to strengthen campus sustainability efforts. The goal is to increase accessibility to LEED for educational facilities and campus development, support student leadership, advocacy efforts and promote sustainability in the curriculum. There are more than 100 tools and resources posted to the website to support campus greening efforts. By infusing sustainability principles within primary schools and all institutes of higher learning we gain a new generation of leaders who are educated and trained to help build a greener world today. Learn more about how schools can get involved in greening campuses.
Campuses are demonstrating their leadership in sustainability with master plans designed to decrease carbon footprints, reduce construction waste, save energy, save water, and save money. Installing moveable glass walls, whiteboard walls and chalkboard walls in classrooms and campuses throughout the United States are some of our most rewarding projects. Nxtwall works with facility managers, school boards, engineers, architects, and interior designers from review of each campus master plan through installation and reconfiguration. Schools specifying demountable walls benefit from the flexibility of Nxtwall's field fit wall systems. Nxtwall's View line of moveable glass walls offer unprecedented light harvesting at competitive market rates. The incomparable flexibility of materials, designs and configuration of Nxtwall's custom designed Flex wall systems are built to fit each space. Each Nxtwall demountable wall system is suited for retro fitting existing spaces and for a clean installation to new additions, or new building construction.
Sustainable Benefits of Demountable Walls in Higher Education
Wall options include sound transmission category in the mid 40 STC rating
Standard construction wall thickness, 3" 1/16, allows specification of readily available door hardware, accessories, and a wide array of unique materials
Integration between glass front wall systems, flexible demountable wall systems with existing walls or new building specifications High quality and high definition wrapped wall board material with many finishes
Demountable construction, tracks and studs snap fit together and reconfigure to a new space
Chalkboard and Whiteboard accessory options
Truly reusable and recyclable materials
Daylight harvesting – through clerestory options and full glass walls
Minimized kit of parts for ease of inventory and facilities management
Go ahead students write on the wall, think it through, erase and sketch out new ideas, there were no trees harmed from your classroom work today.

Greening Schools Resources:
– Options for College Students Seeking Green Campuses – 2013 – 2014 List of Green Campuses
– Climate Neutral Campus Report – Sustainable Campuses
– Farrell, James J. The Nature of College. Minneapolis: Milkweed Editions, 2010.
– Bartlett, Peggy F. and Chase, Geoffrey W. (eds.). Sustainability on Campus. Cambridge: MIT Press, 2004.
– Greening Our Schools Report, 2009