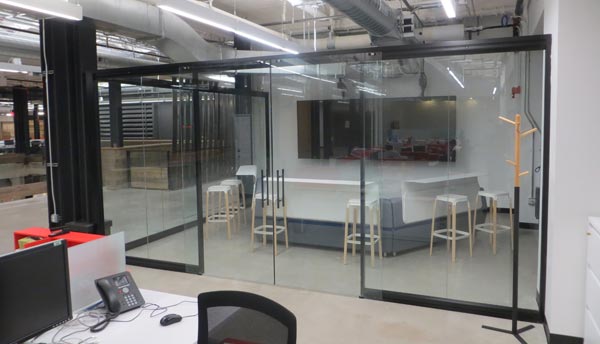 The office space has been re-imagined. Gone are the days of rows upon rows of identical cubicles in unnaturally lit office spaces and warehousing buildings. Workers are no longer squirreled away in tight cramped spaces with solid core wood doors and four walls of beige painted drywall. Current  open space planning is encouraging collaboration, glass wall panels and glass interior doors are inviting transparency, and natural light inside. Expanses of open space and lowered cubicle walls is not just for public relations firms and advertising agencies. The new office space, conference room, management office, hotel and shop is designed to grow and change. The sense of permanence yet flexibility of glass walls and interior glass doors in modern commercial interior spaces promote a sense of openness and connection with the surroundings that are beneficial to the company, employees and guests to the space.
Glass walls are chosen because they delineate space while maintaining the attraction of clean, crisp, open space planning. Interior glass doors are used to communicate the 'open door policy' and encourage communication at all levels. This new and dramatic material use invites natural daylight to flow through the building while masking sound for workers in the space. The experience for workers and visitors is proven to increase the morale of the people who interact with the spaces. With the added benefit of meeting green building goals the sustainability quotient of demountable glass wall systems and complimentary glass interior doors is consistent with current interior space planning trends.
Office workers were found to perform 10 to 25 percent better on tests of mental function and memory recall when they had the best possible view versus those with no view. – Heschong Mahone seminal study Daylighting in Schools: An Investigation into the Relationship Between Daylighting and Human Performance
The transparency and transfer of natural light with glass wall systems and the increased air circulation over conventional drywall walls has resulted in a demand for glass doors that will keep with the integrity of the design.  Nxtwall's line of commercial glass interior door options include single or double slider glass doors and single or double swing doors.  Choose from frameless slider doors, frameless swing doors along with sustainable solutions for aluminum framed doors with compact tracks that contribute to a minimalist design. The walls of the space do not have to be all glass for an interior glass door to bring light into a work or common space. Nxtwall's View series walls are full panel glass but we also install interior glass doors with our Flex series wall system where the wall insert material is limited only by your imagination.
No more waiting for the sun 
Combining interior glass doors with demountable glass panels or modular partitions is a perfect solution when retrofitting or remodeling an existing space. Because the installation is less intrusive and more economical than traditional drywall installation designers can create elegant, streamlined spaces with little to no disruption of business operations.
The extension of natural light brings a sense of flow and visual transparency deep into the space. This daylight harvesting results in reduced energy use, increased productivity and well being of the occupants. Plus, the expanse of glass in a room can make even a small room appear larger and more open.
This sense of scale is further felt with the choice of frameless interior glass doors or sleek framed interior glass doors that match the finishes of chosen wall panels. Interior glass doors available from Nxtwall are Americans with Disabilities Act (ADA) Compliant. These doors are free of floor tracks or when needed floor tracks will be installed and follow the www.ada.gov requirements in measurement so they can be used by all people without having to be adapted or re-designed.
Advantages of Interior Glass Doors 
natural light and outdoor views
sense of openness
maximized space – smaller spaces appear larger
minimized need for conventional lighting
energy savings
increased LEED points
clean, crisp and contemporary
increased transparency
cost-effective remodeling
compatible with ADA requirements
less intrusive installation
Interior Glass Option Types
Tempered and laminated glass options are available for Nxtwall interior glass doors and interior glass wall panels. Both tempered glass and laminated glass offer aftermarket recyclability. Tempered glass is stronger than laminated against direct forces yet laminated glass is usually a safer option. However,  laminated glass is known in the industry as "safety" glass. Made up of multiple glass panels that are  divided by a layer of PVB (polyvinyl burial). If laminated glass breaks the pieces adhere to the PVB layer making it a safer option for interior installations. New technology now allows for tempering the glass and then laminating to make the glass both stronger and safer, however this added protection add a cost increase.
Tempered glass
highly resistant to impact and temperature changes.
limited to clear or satin etching
digital direct-to-glass printing (permanently print designs, logos, etc. onto the glass)
Laminated glass doors
interior films like PVB add increased acoustics and privacy
clear and clean consistent finish of glass facings can be tempered with etching
film can be printed with a wide range of color and designs
Interior Glass Door Types
Interior glass door types are most often determined by space and design. If there is limited clearance into a room or if a door will open into a busy walk way sliders may be the best option compared to a traditional swing door.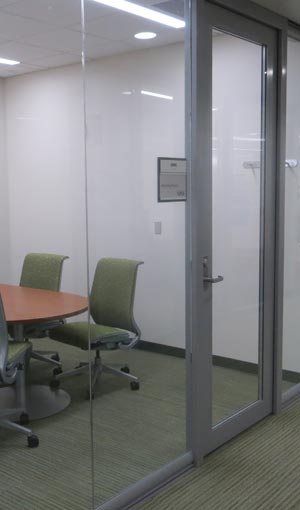 Swing Door – These doors swing out or into a room.
single of double doors
mounted on hinges on one side of the opening.
door knobs or door pulls can be installed
locking mechanisms can be included
transom  or full-height doors available
Slider Doors – These doors slide away from the door opening and into the wall.
single or double doors
greet for new construction
allow for full access
reduced clearance for opening and closing  (reduces hallway traffic interruption)
can be locked
frees up other passageways

Frames and Finish Options for Nxtwall Interior Glass Doors
Interior glass doors offered by Nxtwall can be ordered as frameless door or with frames that will match the moveable partition or moveable glass walls specified. The frames can be minimal in size, consisting of only 4 percent of the overall material used in the opening. This minimalist approach provides aesthetics, light weight durability, ease of recyclability and more daylighting to assist in reaching LEED criteria. The main upper extrusion that holds the glass panels is mainly made of aluminum and Nxtwall offers a large range of finishes from clear anodized to any RAL color finish to match the look and feel of your interior design scheme.
Don't you love them madly…
Commercial construction companies and building owners recognize the importance of maximizing space, flexibility and well being of their workforce and building guests with elegant and sustainable building product solutions. No more waiting for five o'clock to see the sun! With newly provided ADA compliant designs even budget conscious owners, facility managers, and developers recognize the compelling option of demountable wall systems with interior glass doors. Breaking down the barriers to natural light, bringing the outdoors in while encouraging interaction of departments creates a united and healthy work environment that is comfortable and inviting.
Call or email us today to discuss your commercial remodeling plans. We can retrofit an existing office, build out an entire floor or just add some sleek glass interior doors to bring some light into your space.