FLEXIBLE & FUNCTIONAL
NxtWall modular wall systems create the perfect environment for success.
NxtWall's stylish architectural wall products offer unlimited opportunities to create the perfect environment. Clean lines and user focused designs, NxtWall Architectural Wall Systems offer endless customization. Functional and flexible NxtWall combines solid or glass panels for work space design solutions. Add a tackable fabric board or white board or get creative with nearly any material or design imaginable. NxtWall's two distinct product lines are integratable, versatile and completely demountable. 100% reconfigurable and up to 100% recyclable.
"Modular walls are a critical part of our tenant relations strategy. We can do full reconfigurations for what other buildings spend for minor TI work. And we can modify spaces mid-term when needs change. Tenant's really like that attention, helping them do business their way."
– Gary Christensen, CEO of Christensen Corporation
NxtWall Case Study – Banner Bank Building:
The Banner Bank Building is Idaho's first multi-tenant office building to be certified with a LEED PLATINUM Certification. The Banner Bank Building occupies eleven stories at one of the city's premier downtown addresses. This business center hosts 180,000 square feet of office and retail space. It was designed to provide owners and tenants with the most functional, comfortable, and economical workspace a modern building can offer. The sustainable design and energy efficiency make the Banner Bank Building one of the most modern office spaces in the Pacific Northwest.
The Challenge: In the last ten years, 57% of Banner Bank Building has been reconfigured. With the need for extreme flexibility, Gary Christensen, CEO of the Christensen Corporation, wanted to find a wall system that could be reconfigured fast and with minimal interruption. He was looking for a wall system that could be used to insure office space is both good-looking and flexible to meet the needs of the tenant and landlords in a fast and efficient manner.
The Solution: The Christensen Corporation chose the NxtWall Flex Series demountable modular wall system for its reusablility and long-term cost savings. When comparing NxtWall demountable wall systems to conventional drywall constructed walls, a common misconception is that demountable walls are more expensive. Although demountable walls initially can cost more per linear foot than standard construction, the cost is offset by reduced build-out time and an accelerated depreciation in Section 179 of the IRS Tax Code. Now all Banner Bank's interior walls are modular, so they are flexible, yet private. They offer the same sound attenuation as drywall construction and they promote building material conservation while allowing users to easily reconfigure office designs as needs change.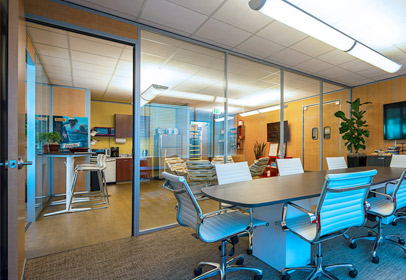 Control costs with NxtWall Architectural Wall Systems. Our demountable walls not only fit your budget, but also your changing building needs. NxtWall modular wall systems are fast and easy to install – perfect for a quick office reconfiguration. Up to 100% of your existing NxtWall wall system can be reused. Reconfiguration of your office space can be done overnight with minimal work stoppages. NxtWall modular wall systems are functional, flexible and maintains the fastest production lead times in the architectural wall industry. We also pride ourselves on friendly customer service. Please call today or learn more about how to order NxtWall modular wall systems.
NxtWall Benefits:
Inexpensive alternative to drywall – options available with lower first-cost pricing compared to drywall standard construction methods
Control Costs / Affordable
Quality Product
Section 179 Tax Depreciation Incentive
Fast, Clean Installation
Changes from solid panels, to glass, to acoustical tackable fabric, to whiteboards are seamless and quick
Acoustical panels available for sound management
A single trade can install NxtWall from start to finish, as opposed to the extended schedules that come with standard construction methods
Durable and easy maintenance
Fastest lead time in the demountable wall industry with a 3-5 week standard lead time
NxtWall Applications: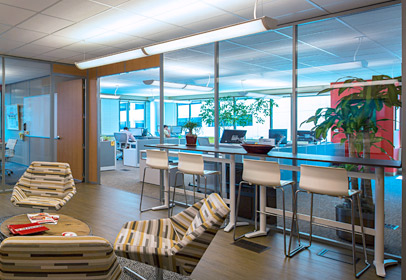 Conference Rooms
Co-working Offices
Private Offices
Fitness Rooms
Reception Areas
Break Rooms
Game Rooms
Collaboration / Breakout Rooms
Mail Rooms
Privacy Walls
Demising Walls
Temporary Walls
Retail Walls
Full Glass Partitions
Storage and Filing Rooms
The Possibilities are Endless!