Time is Money
(A NxtWall Case Study)

Benjamin Franklin is credited with saying, "Time is Money", more than 200 hundred years ago. It was a powerful statement back then, but in the present digital age his statement is even more applicable. In the 21st century we want everything NOW! Fast service at a competitive price is what customers are looking for when shopping around for demountable walls. However, all too often, customers must settle for expensive walls that can take anywhere from 30–70 days to assemble and ship out. Well, not at NxtWall!
NxtWall's new Quick Ship Program allows orders using stock finishes, hardware, wallboard, and framing to be shipped within 7 business days. NxtWall already has one of the fastest lead times in the demountable wall industry (21 days) but with our quick ship program we can now provide product even faster — in as little as 7 days. Note: Glass is not included with framing, glass is ordered and shipped after framing is installed.
The Financial Guys of Williamsville, New York purchased property that was constructed in 1998. The property had been well maintained and the interior office configuration was an open office plan layout with small cubicles and little privacy. The Financial Guys' needs were completely different. They wanted private full height glass offices throughout their space, and they needed to move quickly. Since the task was so comprehensive, the challenge was to find a demountable wall system that could go from concept-to-completion fast.
Cost was also a concern. The Financial Guys wanted to stay within a set budget. By using Section 179 of the IRS tax code, The Financial Guys were able to deduct the full purchase price of their NxtWall demountable walls during the current tax year, as opposed to depreciating the improvements over several decades. When all those things were considered, NxtWall was an obvious choice for demountable walls because they could deliver the best overall value with the best turnaround time!
"We were under extreme time constraints. The clock was ticking – we purchased our new building and wanted to move-in quickly. Demountable walls were the way to go for us. From the initial design phase to installation – NxtWall demountable walls were easy to work with and fast to ship and install. The best thing about our NxtWall wall is that as our company grows we will be able to reconfigure and reuse our existing walls and there will be no messy demolish of drywall to contend with. We are extremely happy with the way our offices turned out. They look great!"

–Glenn Wiggle, Partner/COO, The Financial Guys
NxtWall's demountable architectural walls were the ideal solution. The Financial Guys took advantage of NxtWall's free design service and after agreeing upon the design and wall finishes, The Financial Guys were also able to take advantage of NxtWall's Quick Ship program. The Financial Guys selected from stock finishes, hardware, and wallboard therefore their project was shipped in only 7 days. The fast turnaround time was exactly what they were looking for. Timing was a critical concern and NxtWall with their Quick Ship program delivered!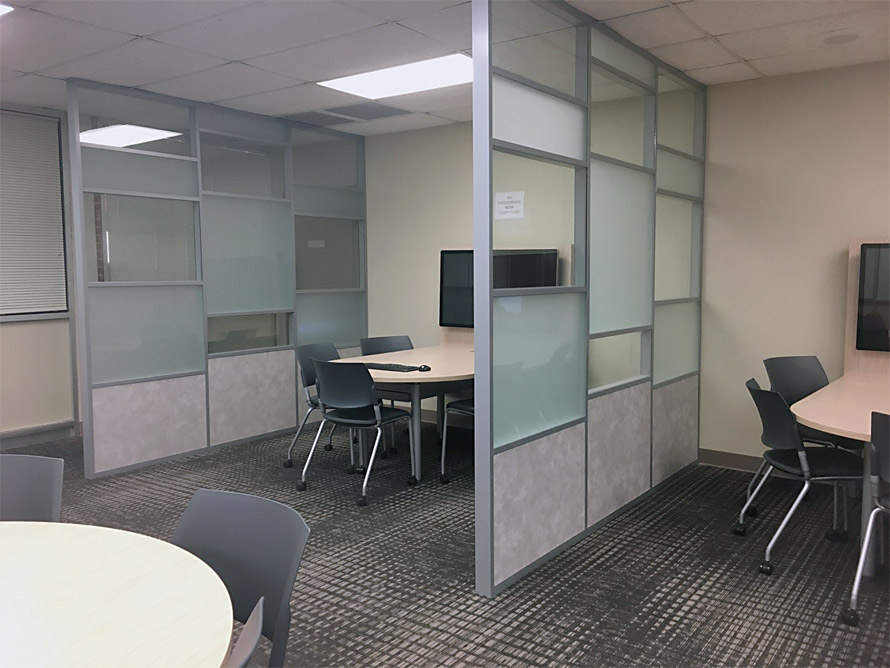 Product: Flex Series
Wall Frame Finish: MS Silver
Market: Higher Education
Description: Floor-to-ceiling demising demountable partitions. Wall Panel Finishes: 1/4″ clear tempered glass (double pane), 1/4″ frosted tempered glass (double pane), and vinyl wrapped gypsum insulated solid wall panels.
See more Flex Series Images