Every Architectural Wall Project is Unique… That's Why You Need NxtWall!
What works for one customer may not work for another. At NxtWall Architectural Walls, we strive to create the perfect demountable wall solution that meets our customer's exact specification and needs. NxtWall delivers a complete demountable wall system using a field-fit design. We have the features and options you need to achieve the look you want. At NxtWall, we believe in providing great customer service. We offer a quality demountable wall system, at a competitive price and with the fastest turnaround time in the wall industry.
NxtWall offers an array of both standard and special features:
Integrated Electronic Strike and Card Reader
NxtWall can incorporate custom door hardware options such as integrated electronic strikes and card readers– a feature most wall companies in our price point cannot offer. Electronic strike and card readers add security or traffic control where needed and are available in both the Flex and View Series.
Electrical, Power & Data Integration within your Demountable Wall System
NxtWall can provide a quality, cost effective and innovative power/data distribution solution. Modular power and data can be configured at multiple locations and heights within the Flex Series using a modular plug-n-play electrical system or via conventional construction methods. Electrical and data can be added at monitor, desk or standard height. NxtWall interprets each project as unique and will design a plan that best fits your needs. Available in Flex Series only. *Data cabling is not included.
3 Different Integrated Whiteboard / Markerboard Options
There are 3 options available when it comes to choosing the right whiteboard for your project. Each option comes with its own specific feature. The porcelain magnetic option is the most popular and widely used. The second option is back-painted glass which is slightly more expensive but is more durable and looks more professional. The top of the line is the back-painted magnetized whiteboard option which offers the most versatility. Whiteboard options are only available within the Flex Series.
Wall-Mount Monitors, TV's, or Cabinets
Soft Close & Soft Open Door Hardware Options
Glass Door Hardware Options
NxtWall's lever lock housing kit door hardware for glass doors allow for a much superior sound seal between the glass slab and door frame. This is something our competitors are not able to provide. NxtWall's glass door lever lock housing kit offers greater flexibility to incorporate an array of locking options on frameless glass doors.
Bar pulls both locking and non-locking door handles are also available in many sizes and finish options. NxtWall carries an array of door hinges including full swing and half swing self-closing hydraulic hinges. Available in both the Flex and View Series. View the door hardware image gallery for more information.
Door Configuration Options
Door configuration options such as swing, sliding, single, and double doors are available within both NxtWall's View Series and Flex Series architectural wall systems.
Door Specifications:
Flush (Solid door)
Half lite (Half Solid, with half height glass insert)
Quarter Lite (Solid door, with custom size glass insert)
Full Lite (Solid frame, with full height glass insert)
Glass (Frameless glass door)
Aluminum Frame (Aluminum frame door with full height glass inserts)
Door finishes include:
Aluminum frame
Wood frame (Laminate or Veneer finishes)
Solid core wood (Laminate or finished Veneer)
Frameless glass (3/8″ clear tempered)
Visit one of our architectural door image galleries below:
The Nxtwall Team is committed to listening to its customers and delivering architectural product solutions that are always innovative, always affordable… always your next wall.
Call 269.488.2752 today to discuss your architectural wall needs with a NxtWall Sales professional.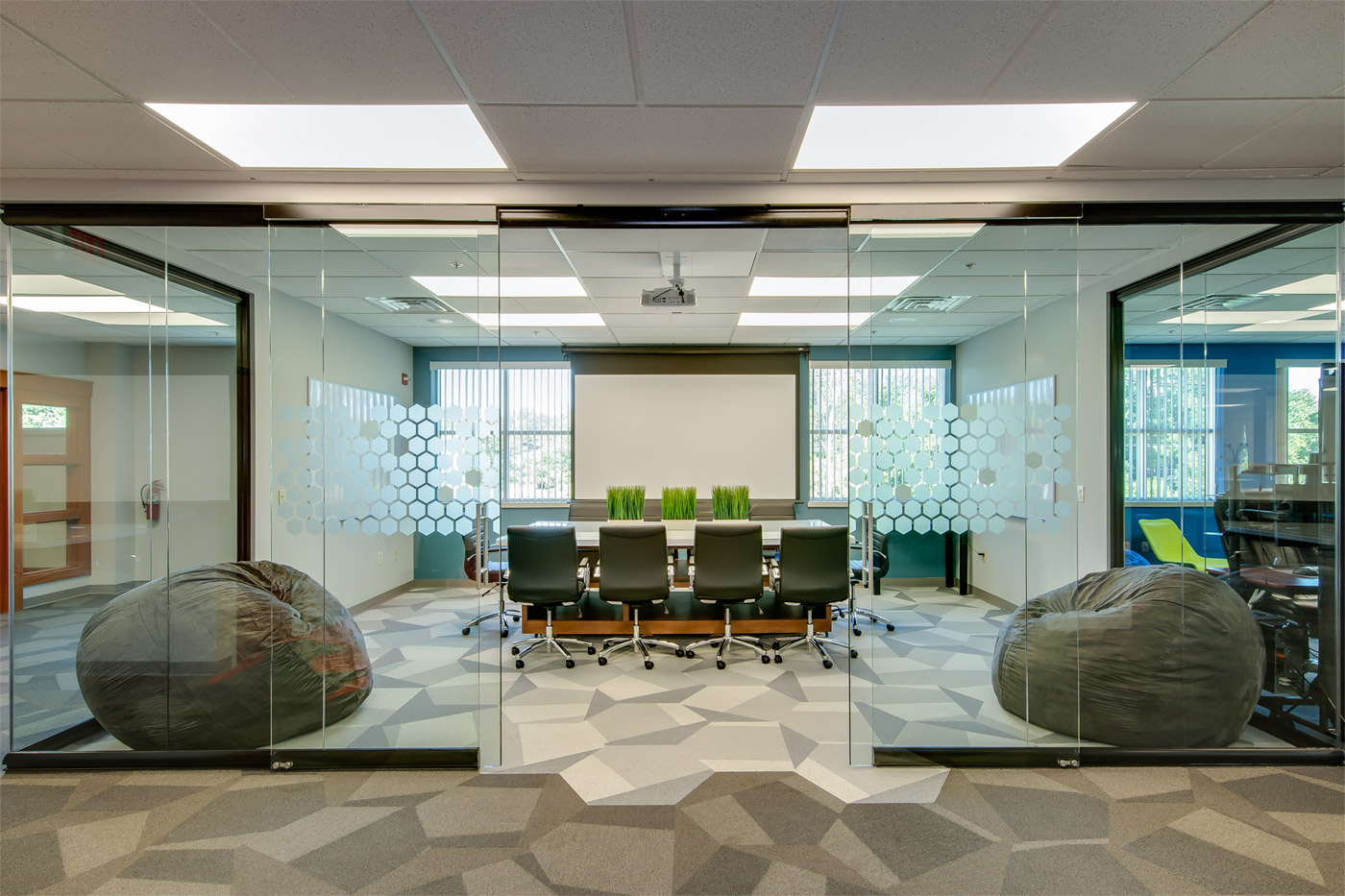 Product: View Series
Wall Frame Finish: Black
Market: Technology/Gaming
Description: Floor-to-ceiling glass walls. Wall Panel Finishes: centermounted 3/8″ clear tempered glass (single pane) with decorative window film, Brushed stainless sliding door hardware, frameless 3/8″ sliding glass doors.
See more View Series Images