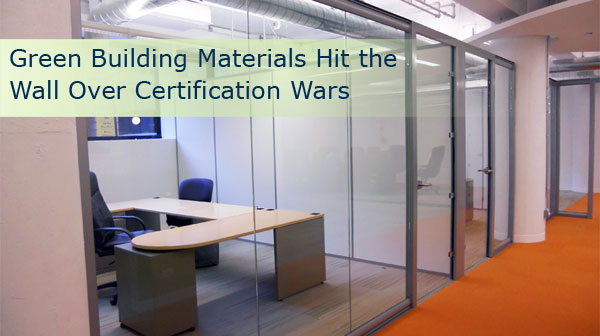 Many of us in the commercial building and green building materials industry are hearing the cries from the front lines of the green building certification wars. Numerous articles of late proclaim one green building certification over another. From net-zero energy to green building materials,  sustainable design has become ann oxymoron in some circles. It's baffling to determine which materials, criteria and assessments are necessary to achieve certification. And which certification is the best solution for our industry, our clients and the environment.
Since 2000 and the introduction of United States Green Building Councils' (USGBC) Leadership in Energy and Environmental Design (LEED) certification, new environmental building certifications have formulated. Green Building Initiative (GBI) brought Green Globes certification to the U.S. in 2004-2006 and has positioned themselves to be competitors of LEED. With strong membership numbers in the timber, chemicals, and plastics industries GBI differs from the other in their view of which products support environmental stewardship.
Other options including Living Building Challenge (2006) certification levels and now WELL Building Standard are offering certifications with meaningful impact on the physical and human elements of the built environment as well. All of these certifications outline their suggested best practices to accelerate the adoption of environmental principles in the building and construction industry. Dealing with energy, waste, and water the idea is to reduce the carbon footprint of each building by endorsing the many benefits of green building.
Benefits of Green Building:
Energy
30-50% reduction in use
Lower maintenance costs
Water reduction
reduction in use and costs
Material Use
Reuse and recycled content = Reduced waste
Indoor Environmental Quality
Healthier Environment
  Reduction in sick days
    Higher productivity
With all the benefits, green building materials bring to the betterment of the planet it is disappointing to report that green building initiatives have not gained the traction expected. According to Jerry Yudelson, President of the Green Building Initiative, the organization behind Green Globe certification, "If green is so great, why does it account for only one percent of the total U.S. building stock?"  Although some of GBI's tactics are under question Yudelson raises a good question.
The reality is we have big organizations competing for corporations, architects, builders and facility managers to invest in their green building certifications. Green building material manufacturers jump through hoops to comply with the requirements of each of the certification arms.  Interior designers research and specify environmentally friendly materials. The benefits include reduced waste and carbon emissions, long-term savings in water, energy and sewer bills, healthier buildings plus higher rents and tenant and customer satisfaction and yet nobody seems to care?
Based on the energy savings alone we know it is not for lack of benefits that green building has not been embraced by more of the manufacturing, construction, and building industries. The question must be posed: Is it the means of reaching the coveted certification level that is keeping the green building initiative from having a greater impact?
What is keeping Companies and Facility Managers from investing in Green Building?
Are there too many players in the Green Build certification arena?
Is the certification process too expensive?
Are the assessments for certification too confusing or difficult to compile?
Are the required materials busting the budget?
Are the consultants and reports too expensive  and 

time-consuming 

to manage?
Is there a need for more green building material manufacturing?
As a manufacturer of sustainable moveable walls, NxtWall green building products assist builders and facilities in increasing points for all green building certifications including LEED and Living Building points in the waste, materials and aesthetic areas of certification. It is not solely to please the approximate 1% seeking certification that we are designing healthier products and adopting environmentally conscious manufacturing and installation methods. We're providing green building materials and sustainable design because we know our removable walls have an impact on the environment – today and in the future.
When the green building industry gets answers to the questions for why more companies are not embracing the green building certification process we'll be here. Our field-fit, reusable walls offer corporations material savings, reduced construction time, and reduced waste will continue to meet certification point requirements and will serve to protect the environment for our kids and yours – for generations to come. Contact NxtWall for environmentally conscious interior wall solutions that adjust for growth and change.