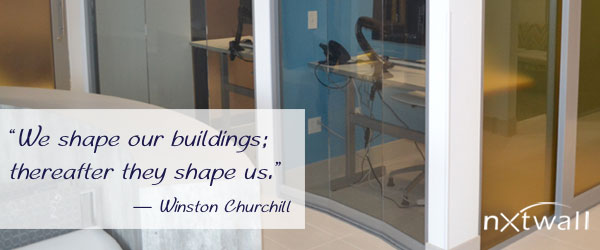 When you're designing a new building, or renovating an older space it's important to have the overall health of the building's occupants in mind. Too many buildings in the past simply utilized the cheapest materials or the most readily available materials at the time. Today, re-creating these spaces with natural materials, ventilation, and sunlight minimizes the environmental impact and increases comfort for the inhabitants. Conscious consideration of sustainable architectural solutions not only reduces the harm done to our planet it also reduces negative health effects to people. When we have choices that on have an impact on people and the earth, why not choose to design a harmonious, healthy space that considers every environment?
With increasing availability of sustainably-sourced materials, many new products reduce negative environmental impact for interior and exterior construction for residential and commercial building industries. Today building in a sustainable manner throughout the building process is a natural transition with the introduction of key green building methods, and the increased availability of health and budget conscious environmentally friendly building solutions.
Below we cover the importance of building in an environmentally friendly way that also maximizes the health of the building's occupants. We've also included a few material and building suggestions to get started.
The Importance Of Minimizing Environmental Impact
Environmentally friendly building isn't only good for the environment, but it's good for your bottom-line. Today's designers are incorporating elements like, glass walls and doors, and upcycled wall and building materials.
Buildings or office-spaces that are designed to be eco-friendly also tend to be lower cost in the long-term. Although, upcycled materials and energy-efficient appliances and materials can be more expensive upfront, by reducing overall energy and maintenance costs the cost is less.
How To Maximize The Health of Building Inhabitants
Today's workers are demanding sustainable buildings. By ignoring the social and environmental impacts of your building you could end up lowering the productivity and happiness of your workers. In the briefing stage of a project inhabitant wellness and over well being are now being considered more than ever.
Since most students and workers will spend almost all of their waking time in an indoor environment it's increasingly important for these environments to promote overall health. This view has created a shift from building a building for the sake of itself, towards a building that is built for the people who are going to be spending time there.
Even simple things, such as increasing natural light, providing more open spaces, and increasing the overall interior ventilation can greatly improve worker efficiency.
Eco-Friendly Building Tips To Get Started
Getting started with an environmentally friendly building doesn't have to be difficult. By putting occupant and environmental health at the forefront you'll create a building that lasts and is primed to make the world a better place well into the future.
In order to construct a cutting-edge sustainable building you need to address the following elements below:
1. Improved Materials
By using hazardous materials throughout the building process you'll help to avoid health complications in the building habitants. For instance, a lot of older building materials actually increased the number of asthma cases in workers.
Eco-friendly building materials will support the health of the people inside the building, and lead to improved focus, efficiency, and total productivity.
2. Daylighting
Daylighting is the process of increasing the natural light that's present throughout the office. NxtWall offers easily mountable glass walls, which also have an incredibly clean installation process. These walls will easily allow natural light to flow into the office.
Removable walls also allow for easy office configuration. This enables rooms to be created and broken down with relative ease. This allows for easy adjustment to sunlight, and can effortlessly adjust to the inhabitants of the space.
3. Accessibility to Nature
Even something as simple as being able to look out the window and gaze into the outdoors can do wonders for decreasing stress. Some of the latest trends in green building try to incorporate plants and trees into the built space. At the very least, make sure the windows in your office point towards some type of natural element.
By incorporating some of the design elements mentioned above into your office space, or school, you'll improve the overall health of anyone using the space, while improving productivity throughout.