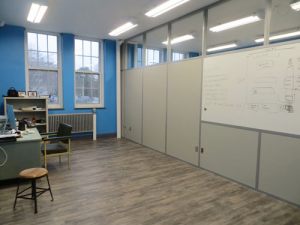 This month brings us to the MIAPPA 2014 conference. NxtWall has decided to attend this year because it is being held at Mackinac Island. This motor-free historical setting will give us the opportunity to see how easily our eco-friendly school building products and displays for demountable walls can be transported by bicycle. It's all part of our product life cycle analysis and choosing the less emissions from transportation approach.
Seriously, we are most looking forward to connecting with our college and university facility managers, aka higher education physical plant administrators to see how we can serve them best. We are proud to work in partnership with higher education to ensure that every student has the best space for learning with the least amount of impact on the environment.
How does Nxtwall Partner with Higher Education as an Eco-Friendly School Building Products Manufacturer?
NxtWall has answered the call for eco-friendly school building products by installing our demountable wall systems in nearly all of the top 10 schools and in many other colleges and universities throughout the United States. The MIAPPA conference grants us the opportunity to visit directly with the decision makers responsible for the selection of eco-friendly school building materials for their campuses. These physical plant managers and administrators are the workers who may benefit most from products with long life cycles like NxtWall demountable walls. The facility managers in higher education jump through hoops annually to re-configure college facilities on limited budgets with more demands for eco-friendly school building products and environmentally conscious practices, often with shortened time lines.
Facility plant managers in higher education schools are currently under pressure to find eco-friendly school building products that will assist them in meeting a variety of certification goals. By specifying eco-friendly school building products like re-usable demountable wall partitions, colleges and universities have a one time investment that can be reconfigured time and time again. With recycled and recyclable content our moveable classroom walls, and demountable glass office walls deliver multiple tick marks for sustainability rating systems used by many colleges and universities today.
Some of the sustainability rating systems for higher education schools include:
LEED v4
Collaborative for High Performance Schools (CHPS) www.chps.net.
Green Globes
Society for Environmentally Responsible Facilities (SERF)
How NxtWall demountable walls meet eco-friendly school building products guidelines:
green building materials
recycled content
recyclable content
lower emissions
increased daylighting with View glass demountable wall systems
less remodeling and construction waste
increased life span of school building interiors
more… depending on product line chosen…
We are looking forward to this opportunity to speak one on one with physical plant managers and workers to receive more feedback about how NxtWall demountable walls are performing, how they may be improved or how they may be a sustainable solution to help physical plants in higher education meet the LEED v4 and other building sustainable certifications as re-usable eco-friendly school building materials.