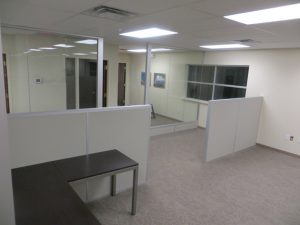 Recent evidence has revealed new and renovated commercial properties that have achieved green certifications such as Energy Star, LEED and Green-Star ratings typically command higher rent premiums. Statistics are showing the higher the green certification the higher the rent for commercial properties.1
With the plethora of green building benefits why aren't all new commercial construction projects seeking green building certifications? Numbers are increasing as the cost of building green is going down. However, there are strict guidelines associated with each certification level that requires thorough tracking to meet environmental certification labels. This is a heavy responsibility often handled by facility managers and their teams during the project management phase and after. Facility managers are under pressure to address space allocation and changes, plus tendering and procurement that demonstrate increased life cycle of assets and reduced expenditures. Reducing construction waste and costs of reconstruction, while adding value and a positive experience for the lease holder and inhabitants is the ultimate goal.
Green building benefits like energy efficiency, air quality, daylighting along with well designed interior space planning with materials and installation procedures that support good stewardship of green building practices are at the forefront of all green building plans. Once renovations or new building construction is complete and green certification has been reached, facility managers must then ensure the green building benefits hold up to the promise of delivering optimum working or living environments for lease holders. Collaboration and communication between facility managers, owners, agents and occupiers is key to reap the highest green building benefits available. At the leasing stage facility managers and building owners often develop guidelines and proper use agreements for tenants and lease holders to keep the interior environment aligned with the green building mission.
With higher energy efficiency, resource conservation, healthier interior environments and flexibility of design, there is a long list of positive green building benefits for the commercial property owner and lease holder. Research coming in shows higher demand in terms of both sales and rental values, longer lease terms and occupancy rates of certified green commercial buildings. Some indirect green building benefits include ease in refurbishment and reconfiguration of space and potential reductions in property taxes and insurance rates.2
Green Building Benefits At A Cost?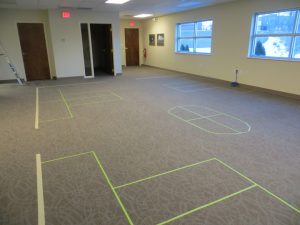 Experienced facility managers have learned upfront costs associated with green building can be offset by long-term life cycle costs and effective space planning. Energy efficient building systems, high-performance facades and demountable, moveable wall systems are a few of the sustainable solutions selected to achieve green building certifications on budget.
Demountable moveable wall partitions can be reconfigured and reused over and over again for a variety of tenants. The adaptability of moveable interior wall systems reduces the workload for facility managers a couple of ways. First by offering ease of transition for new tenants and also by reduced time and construction costs with existing tenants that have a high churn rate. Moving traditional walls as the occupants needs change is costly, messy and difficult largely because pipes and wires must be rerouted.
With moveable interior walls the speed of installation, reduced construction dust and noise from traditional remodeling, lessens workplace interruption for all lease holders of the property. Demountable walls can be installed per tenants requirements or tenants can design their interior spaces and purchase wall partitions that can be taken with them at the end of the lease.
Green Building Benefits of Moveable Walls
offer modular flexibility for reuse and reconfiguration time and time again
increased speed of construction and installation
proven durability in a variety of settings
wall systems are often constructed with recoiled materials
most removable wall systems have a high recyclable content
enhance green building certification points for reuse, reduced waste, etc.
For both owner and occupier, the flexibility, adaptability of design of the working or living spaces with reconfigurable wall systems, highly efficiency energy systems and the many other green building benefits ensures that the property will continue to be a valuable asset and bring high reruns into the future
Green Building Benefits for Owner:
higher sales price
higher rental / lease rates
lower design and construction costs
quicker sales/lease of property
slower depreciation
increased occupancy rate ( from 0-23.1%)
lower exit yield
reduced operational costs
maintenance requirements
custom lease agreements
interior wall systems customized to suit each lease holder
Green Building Benefits for Tenant
increased health and well-being of employees / tenants
optimum air quality
increased productivity
demonstration of corporate environmental commitment
comfortable workplace for employees / family
highly sought after locations / properties
custom design interior spaces
Green Building Benefits Future Forecasting
Costs associated with achieving certification are steadily decreasing, green product options are increasing and will continue to be developed as green building becomes more mainstream. Commercial building owners who set their sites to develop high-quality buildings that are sustainable – not just award winning design feats. New building construction and commercial building investors and owners will enjoy higher occupancy rates, reduced energy costs and construction times.
2. Reap the maximum benefits of the buildings sustainable features Green buildings also potentially offer indirect benefits related to reductions in property taxes, insurance rates and the costs for refurbishment. (Lucuik, 2005)