Tear down the walls to design a collaborative work space.
Today's top organizations are trending towards collaborative efforts from their work forces. Executives and managers recognize that collective brainpower not only leads to a more productive and successful outcome, but it's also a tool for engaging team members and providing a more satisfying work experience for them.
The challenge comes in creating an environment that promotes interaction, teamwork and collaboration between coworkers. While the desire may be there, often times the physical office structure may be lagging behind. Many organizations have not allocated space for workers to pool their talents and work together in a productive manner.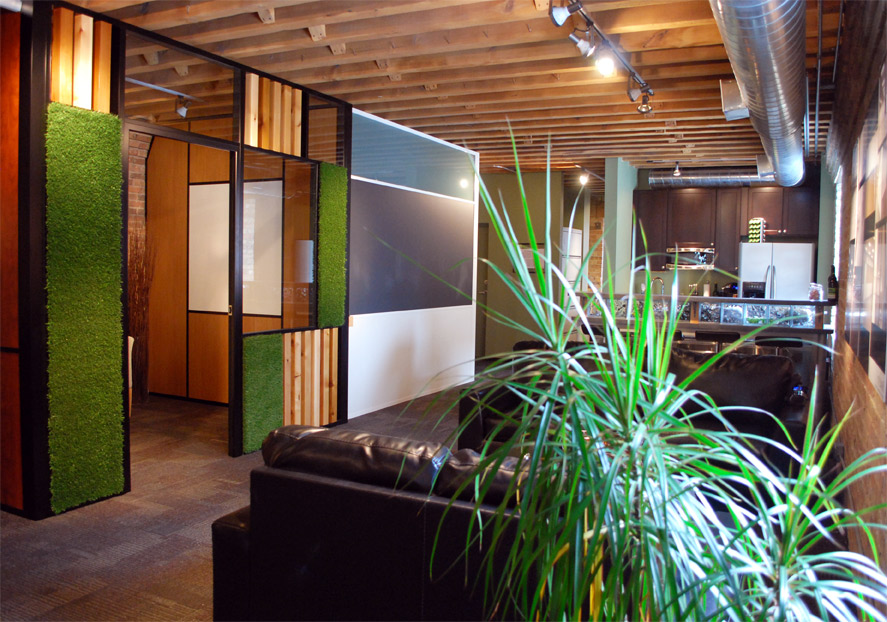 Intentional space…if you build it, they will come.
Providing proper space is crucial for successful collaboration. Workers need areas where they can share ideas, get input and build knowledge. Whether that translates to a traditional conference room,a smaller huddle room or simply a space for informal conversation, movable walls such as Nxtwall's Flex Wall System, provide a flexible and affordable solution for creating that space.
Not only is the Flex Wall System fully adaptable to any building configuration and architectural condition, but it is completely reusable. So as time goes by and an organization's needs change,the space can be easily reconfigured using the existing walls. Thus providing a more flexible and affordable solution to drywall. Plus the adaptability for future changes allows companies to maximize the use of existing space without expensive renovations.
Usable surfaces are fundamental to collaboration.
While brainstorming and the sharing of ideas are optimal for increasing staff productivity, it is also essential to have the proper tools to aid in the process. Once team members have their creative juices flowing and ideas popping, there needs to be a way of recording it all, lest the thoughts fall into obscurity.
So while creating collaborative space, it is important to consider incorporating tools such as marker boards and chalkboards. Built right into the Nxtwall's Flex Wall System, these writable surfaces provide an excellent means of capturing ideas as they occur. Traditionally used in conference rooms, offices, training centers and the like, some organizations have placed writable surfaces throughout their office space so that not even one idea goes unnoticed.
Another option is tackable walls which enable workers to pin ideas, photos and other inspirational pieces on the walls of their work spaces. Nxtwall's fabric tackable walls are made from up to 98% post consumer content and have a high acoustical rating.
Get On Board.
Whether an organization has promoted the team concept for some time or is just considering getting on the bandwagon, one thing is for certain, planning for and providing the right physical space is the essential starting point in creating the proper environment for collaborative activities.
Be sure to visit us in Philadelphia at the 2013 IFMA World Workplace, October 2nd-4th Booth #738. Get an up close and personal look at the Nxtwall system. Plus enter to win a $100 Visa gift card just by stopping by!