Adaptable. Budget friendly. Completely reusable.
In this three-part series of blog posts, we will review some of the benefits of incorporating Nxtwall movable wall systems in your office space.
Adaptability. Facility Managers are able to manage space like never before.  Interior designers and architects require products that accommodate their specific designs. Fortunately, today there are more flexible solutions available than the traditional fixed construction of the past.
Let's face it, change is inevitable. Companies grow. Companies downsize. Technology evolves. Budgets tighten. Employees come and employees go. Needless to say, establishments need to keep pace with an ever-changing environment.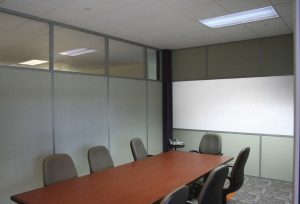 Being able to adapt quickly, easily and inexpensively to these changes is vital. Nxtwall's Flex Office Wall Series provides the needed flexibility in configuring and reconfiguring office space. Wall finishes are unlimited and can easily be changed from a solid wall to a clerestory wall to a floor to ceiling glass wall according to specific needs. Tackable walls, marker boards and chalk boards help maximize the efficiency of the office space. In addition, systems can be adapted to curvilinear office floor plans.
Besides being functional, customizable and completely reusable, Nxtwall Wall Systems offer attractive solutions to any office setting. Click here for a glimpse of Nxtwall at work.