Hybrid Offices are the Future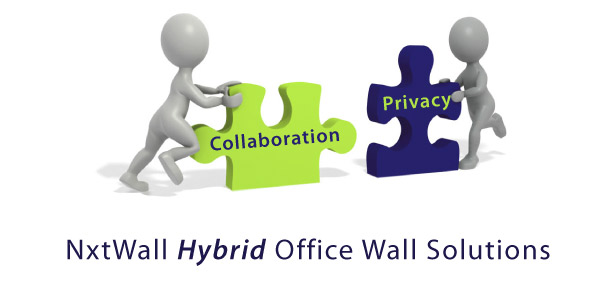 "The open office plan is a disaster"
– Chicago Tribune
——
"Google got it wrong. The open-office trend is destroying the workplace."
– Washington Post
——
"The open office plan was supposed to be less expensive and conducive to building a lighter, happier, more open and collaborative company culture. —But it's backfiring"
– Inc Magazine
The "open office" concept as we know is flawed. Yet today, nearly 70 percent of U.S. offices have either no partitions or low height partitions, according to the International Facility Management Association. What started out as an innovative concept to build camaraderie and fuel collaboration has had just the opposite effect – it's caused discontent and a drastic drop in productivity!
Employees at first may have felt invigorated by the innovative environment but when it came time to concentrate and get the job done, workers felt their attention spans, creative thinking, and satisfaction all have suffered at the hands of the open office layout. What workers missed was a sense of privacy, a place to call their own, a place to make a phone call without being overheard. Most of all, today's workers just seek out a private place to "think" and get their job done.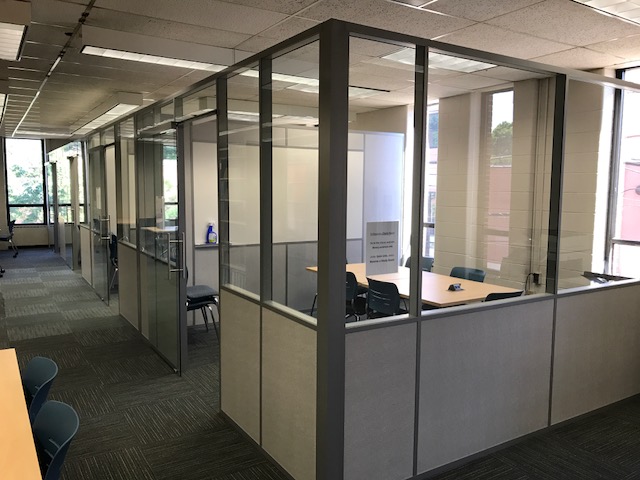 A study published in the Journal of Environmental Psychology found that many workers in open offices were frustrated by distractions that lead to poor and ineffective work performance. Nearly half of the surveyed workers in open offices said the lack of sound privacy was a significant problem for them and more than 30 percent complained about the lack of visual privacy. Shockingly, only 10 percent of those surveyed said that co-worker accessibility was a problem which was one of the main reason most companies instigated an open office plan in the first place. In fact, in the study those with private offices were least likely to identify their ability to communicate with colleagues as an issue.
The New Yorker, in an article entitled, "The Open-Office Trap", stated that the benefits in building collaboration simply masked the negative effects on work performance. While employees felt like they're part of a laid-back, innovative enterprise, the open environment ultimately damaged workers' attention spans, productivity, creative thinking, and satisfaction. A sense of privacy boosts job performance, while the opposite can cause feelings of helplessness.
NxtWall Demountable Walls offer a hybrid solution to the open office plan dilemma which is truly the best of both worlds!
But where do we go from here? NxtWall demountable walls offer today's architects, designers and facility managers a "Hybrid Office Solution". NxtWall's stylish demountable architectural wall products offer unlimited opportunities to create the perfect office environment. Clean lines and user focused designs, NxtWall Architectural Wall Systems offer endless customization. They can be reconfigured as your company grows. With NxtWall demountable walls, it is easy to combine solid or glass panels to create work space design solutions that minimize noise and ensure employees have a private space to get the job done. Add a tackable fabric board or whiteboard or get creative with nearly any material or design imaginable to meet all your employee's needs. NxtWall demountable wall systems offer our customers a flexible and effective way to provide employees with their own private spaces while still allowing for collaboration.
Plarium Global Ltd (A NxtWall Case Study)
Plarium Global Ltd is an award-winning creator of competitive, accessible, highly immersive online games. They are dedicated to creating the best mobile and social experience for hardcore and casual gamers worldwide. With over 250 million registered users, they are consistently ranked among Facebook's top hardcore game developers.
One step through the front door and it's clear – this is an office of dedicated gamers. More space and additional employees were added, and this provided opportunities to design and customize a new area. Plarium employees have a strong need for individual office space to focus on specific projects but they also needed room for collaboration, depending on which part of the gaming process they are working on. The challenge was for NxtWall to provide Plarium with more individual work spaces that provided acoustical and visual privacy while still maintaining an area for collaboration and fun.
NxtWall's View and Flex Series were used to create spaces for both privacy and collaboration that were both versatile and well within budget.
"By creating a fun, collaborative environment and empowering everyone on the team to speak up when they see room for improvement, we're constantly evolving and improving how and where we work. NxtWall's flexibility and functional design helped us design a hybrid workspace for both collaborative and focused work which is truly the best of both worlds."
-Tim Williams, Plarium Global Ltd.
NxtWall demountable architectural walls can provide private office space as well as, huddle rooms and conference spaces where and when you need them. Offices can be reconfigured as companies grow and needs change. By providing a hybrid solution to meet office needs, our customers may once again enjoy a happy productive workforce by giving them room to collaborated and, most of all, room to think.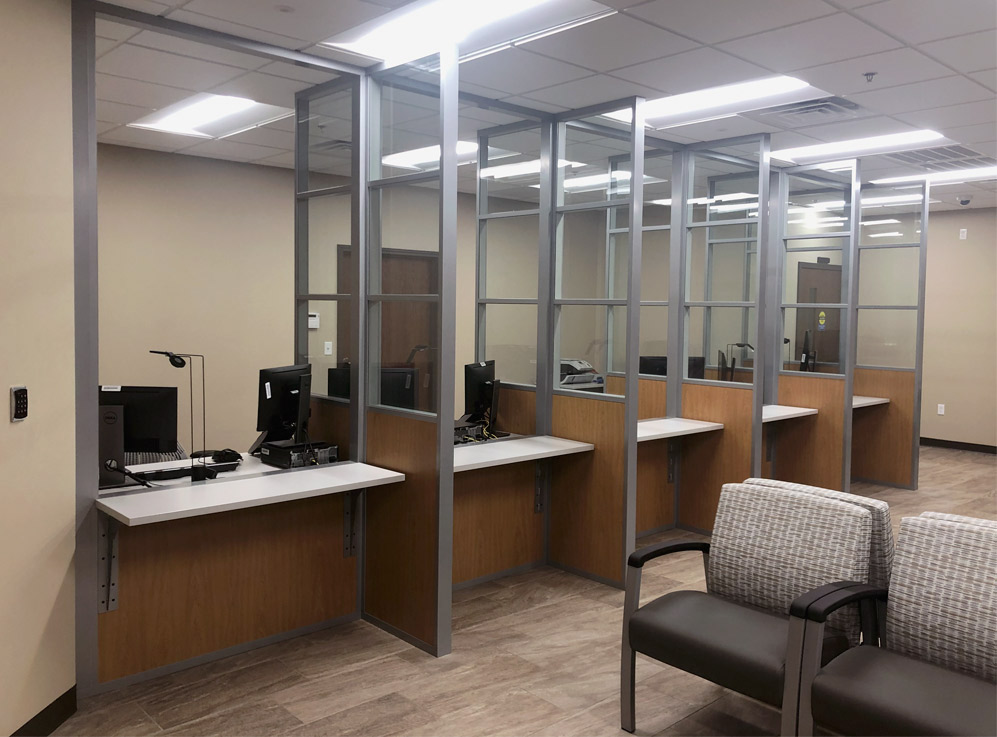 Product: Flex Series
Wall Frame Finish: MS Silver
Market: Healthcare
Description: Floor-to-ceiling glass/solid insulated walls creating a divided reception workstation cluster with wall-mounted laminate worksurfaces. Wall finishes include: flush mounted 1/4″ clear tempered glass (single pane), MDF wallboard with Harvest Maple laminate finish.