re•con•fig•u•ra•tion
noun: reconfiguration; plural noun: reconfigurations
1. the arrangement of parts or elements in a different form, figure, or combination.

Office environments today need to be flexible, free flowing and fun!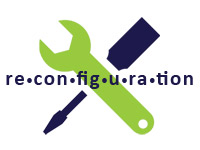 A place that is dynamic and scalable; ready to grow or shrink as work patterns dictate. Employees want a work environment that is both collaborative, and at times, private. Employers want a work environment that not only increases worker productivity, but also decreases worker turnover rates. NxtWall reconfigurable demountable wall systems are the perfect answer.
As Winston Churchill said: "To improve is to change; to be perfect is to change often." NxtWall demountable walls are 100% reconfigurable. Change is easy with NxtWall's Flex and View Series modular demountable walls. Standard drywall construction has become a thing of the past in this dynamic ever-changing world; not to mention costly. One of our customers shared that to move an employee from place A to place B would cost them over $1,000 dollars per person when using standard drywall construction. But with NxtWall demountable wall systems, our modular "field-fit" walls can be reused. An inventory of parts from an existing office configuration can be reconfigured– often with only a few additional parts. That would be almost a $1,000 in cost savings per person. If you have 30 employees that would mean $30,000 you could use in other ways. As a bonus, NxtWall's components are not only reusable but also up to 100% recyclable, keeping any waste from going into a landfill.
"To improve is to change; to be perfect is to change often."
– Winston Churchill
NxtWall will not only assist you with the initial drawing of your office space, but our design team will be available to help you reconfigure your new environment to either a larger or smaller footprint.
Everyone agrees the office of the new millennium must be aesthetically pleasing and flexible to allow for creativity and collaboration to flow, and workers to be inspired and productive. But if workers are unhappy, their productivity decreases. The annual worker turnover rate, in 2016 reached an all-time high of 17.8%. Keeping employees engaged in their jobs is just good business practice. To accomplish this, work environments need to be responsive to the ever-changing needs of their worker. It's not always easy with standard construction drywall. But with demountable walls, changes to configurations can occur fast and even overnight– causing minimal work disruptions.
NxtWall Customer Reconfiguration Project
Project Scenario: A NxtWall Customer had originally purchased and installed a NxtWall Flex Series demountable wall system back in 2015. Two years later, the customer moved into a new building and wanted to re-use the original wall system previously purchased. They also wanted to make a few configuration changes to the design to accommodate the increased ceiling height at the new location. The customer submitted the new design request to NxtWall's design team. NxtWall, then compared the new design request with the previously installed project to provide the customer with a newly reconfigured set of drawings. Also included was a complete list of new material needed within the new configuration (if any). In the example depicted below, the customer had to purchase only an additional 2.7% of the original project's material cost to accommodate their new design. The customer successfully incorporated and reinstalled their previous project's components into the new reconfigured design proposed by NxtWall's design team. They were able to take their previous investment of NxtWall Demountable Walls and reuse them in an entirely different building!
Original Installed Project -vs- Reconfigured Project Comparison (Rendering Drawings)
Original Installed Project -vs- Reconfigured Project Comparison (Plan Drawings)
Original Installed Project -vs- Reconfigured Project Comparison (Elevation Drawings)
Reconfiguration can save you time and money. It just makes sense. Vive la change!