Bank on it with NxtWall
Why do so many Financial Institutions use NxtWall Architectural Walls?

Nearly 20,000 lineal feet of NxtWall Flex and View Series demountable walls have been used this past year to transform bank offices into places where customers want to visit and do business. Which brings up the question: Why do so many Financial Institutions use NxtWall Architectural Walls?
It may seem counter intuitive, but Financial Institutions continue to build and renovate their massive network of branch locations even though technology and innovation have revolutionized the banking industry. Why? Because customers still want to meet with their banker, face-to-face, in a convenient location.
Jeffry Pilcher, CEO/President and Founder of The Financial Brand asked over 25 banking executives their take on the future of banking…
An executive from Bank of America summed up the situation by saying, "We still have one million people coming to our branches every day, and they need that channel. Some need it to transact, but a lot of them come in for advice and we want them to do that. So we need a certain footprint of financial centers. — Paul Donofrio, CFO at Bank of America
NxtWall has been the preferred demountable wall manufacturer for more than 120+ Banks and Financial Service Organizations across the nation in the past year.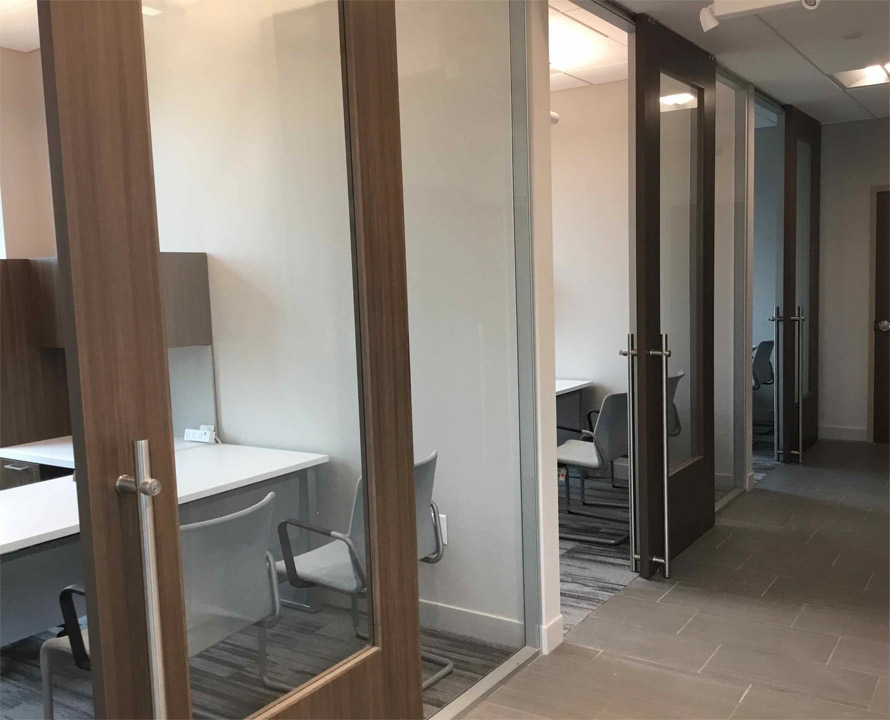 New construction and office renovation demand NxtWall's exceptional overall value, attention to detail and one-of-a-kind service. We perform an on-site custom build of LEED-contributing walls. NxtWall's approach reduces cost, saves time, and offers the ability to improve work spaces quickly, as banks' needs expand and adapt.
NxtWall demountable architectural wall systems are also ideal for situations where you need private office spaces to meet with customers or where branch prototyping is needed for consistency.
Our solid panel and glass systems integrate with any design and can be paired with whiteboards and other office features to encourage a quality customer experience and improve work performance. NxtWall demountable walls can be reconfigured to stay current with the evolving needs of the financial industry.
Our unique field-fit and simplified framing approach creates a demountable wall system with extreme flexibility that can accommodate any design, while offering unlimited wall panel choices. NxtWall offers FREE design services. We can provide plan drawings, elevation drawings and 3D renderings of your project.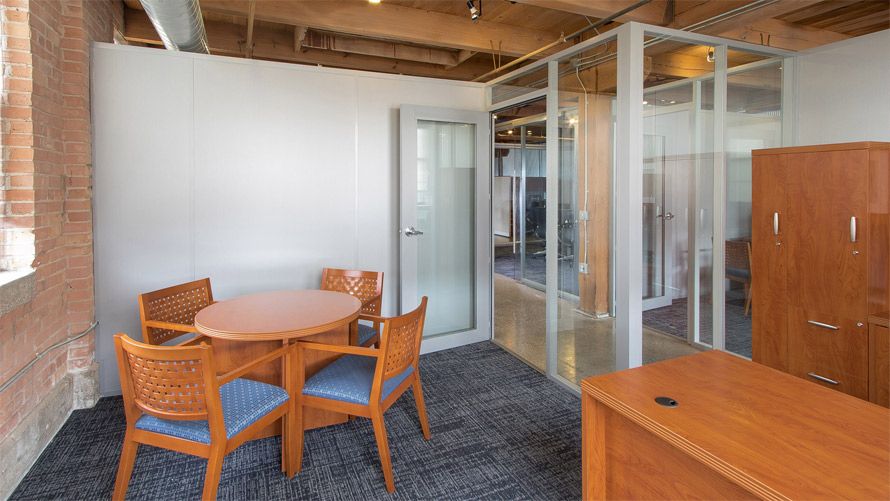 "We'll continue to build branches. Our customers like them. While there have been tremendous innovations around mobile banking, the branch remains the center of that relationship we have with our customers."

–Barry Sommers, CEO/Consumer Banking at JPMorgan Chase
A bank's branch offices need to be aesthetically pleasing and user friendly as well as dynamic and scalable. They need to be ready to grow or shrink as client walk-in patterns dictate. NxtWall demountable wall systems can help meet those changing needs. NxtWall not only assists bank branches with our ability to be reconfigured quickly; they can also help them save money! NxtWall's wall systems are competitively priced and have the fastest shipping times in the demountable wall industry. Perfect for getting the job done quickly and within budget. NxtWall's great design, flexibility and competitive pricing helps makes NxtWall demountable walls a great overall value option. NxtWall demountable walls provide the perfect solution for banks and other financial institutions when it comes to delivering the look they want at an affordable price. You can bank on it!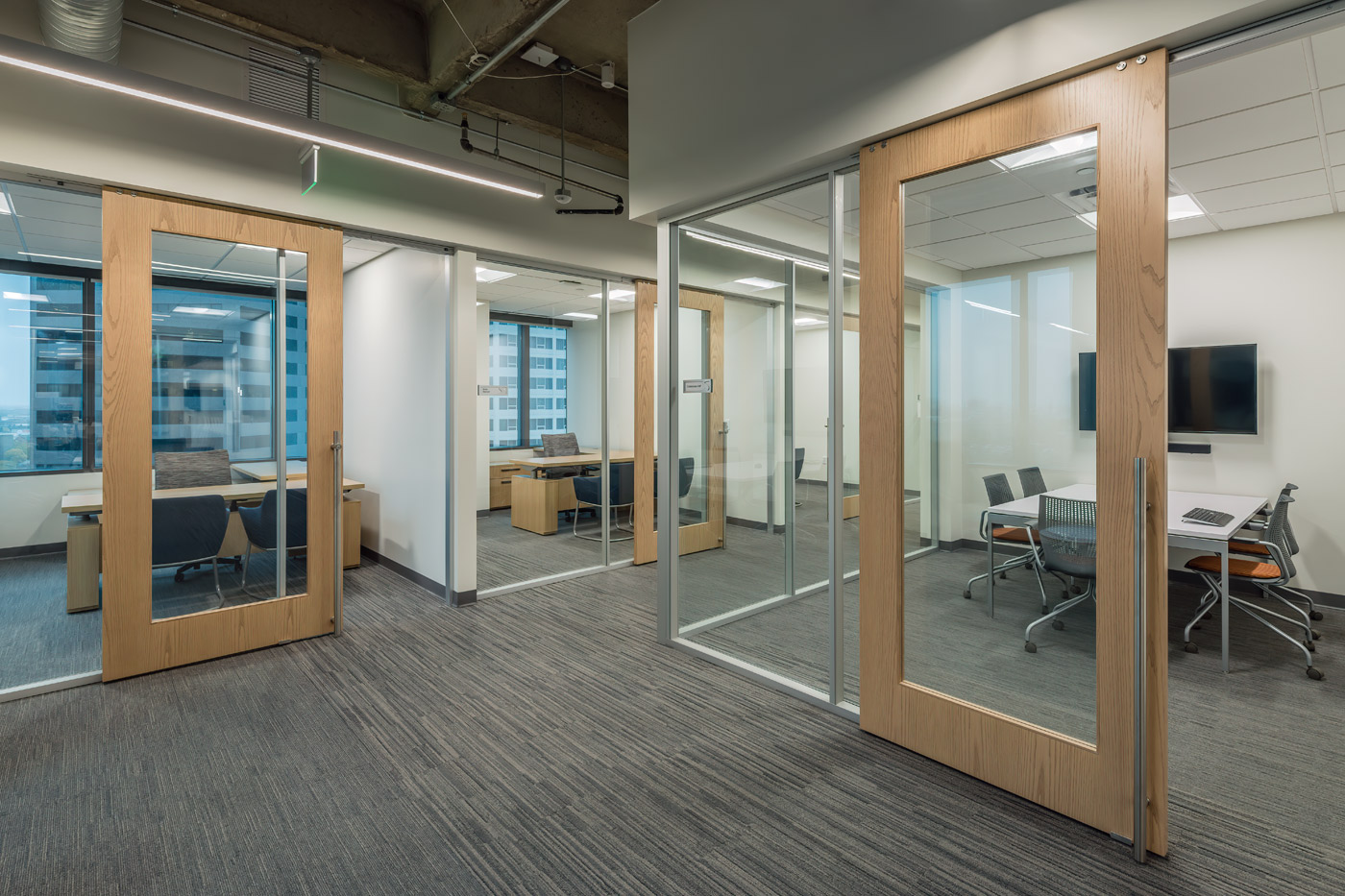 Product: Flex Series
Wall Frame Finish: Clear Anodized
Market: Higher Education
Photo Credit: Michael Firsich Photography
Description: Walls are floor-to-ceiling glass office fronts, 1/4″ clear tempered glass (single pane). Doors are sliding solid core wood veneer frame with full lite and 48″ locking barpulls.
See more Flex Series Images